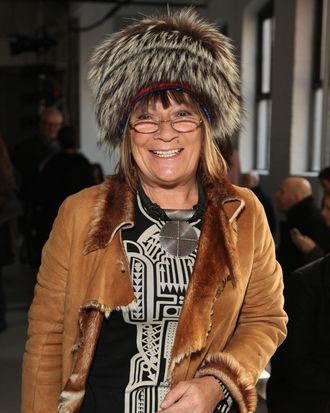 Photo: Will Ragozzino/PatrickMcMullan.com
On a very bright, very cold morning in London, Hilary Alexander is sitting at a cluttered table in her kitchen, smoking cigarettes, drinking coffee, and making a "mood book." She's not confident that it's going well — collage isn't her strong point. "Normally I do words," she says, frowning at her work.
Alexander, the former fashion director of the London Daily Telegraph, is in charge of a SS13 trend show that will run several times a day for the general public (read: non-fashion editors) at London Fashion Weekend — she's been asked to present her initial ideas to the British Fashion Council, and this is their chosen format. Laughing, she shows me pages of torn-out, glued-in images. "I couldn't find a single bloody magazine that had the spring/summer roundup in it," she says, to explain why she's using old images to illustrate this year's trends. "I feel ashamed, but I actually ripped pages out of books of Richard Avedon's photographs, of Issey Miyake, and god knows what else. The BFC will have to take it as it is, because I don't run a graphics laboratory." She can't use the internet to source runway snaps for the project, because she doesn't have a printer.
While she makes me a cup of tea, with Phil Collins and ABBA blaring out of the radio, I hand over a delivery I'd offered to pick up en route. She'd requested the Daily Telegraph, the Daily Mail, and a fresh supply of cigarettes. She smokes three or four of these over the next hour. I haven't seen anyone smoke indoors for years, and she makes it look like a lot of fun, gesturing with the cigarette between her manicured bright green fingernails as she talks.
Her home is a warren of cosy rooms — an inviting mess, full of figurines, clocks, and artworks collected on international trips. An upright piano and bookshelves are crammed with framed snapshots, including pictures of herself with Anna Wintour, Kylie Minogue, Sean Combs, Boy George, and Suzy Menkes. On the wall are tributes received at her retirement party from June 2011; an image of butterflies comes with an affectionate note from Sarah Burton on an Alexander McQueen notecard. Below it hangs a sketch of Alexander reading the Telegraph, drawn and signed by Christopher Bailey on behalf of Burberry.
Though she's lived here for decades, it's become her main workspace since she retired as Fashion Director of the Telegraph. At the time, she said the plan was to keep working as a freelancer, and also take a course in archaeology. But when she started looking into it, she realized archaeology wasn't what she'd imagined. "I didn't want to go into the field with a sieve and a brush. It turned out that what I wanted to study was ancient history, not archaeology," she says. "But I kept getting offered so much [fashion] work. And secondly, the university fees were at least £9000 a year." So she's decided to remain, for the time being, "an enthusiastic amateur."
As fashion-related opportunities come her way, it seems she can't bear to turn them down. And nothing about her suggests retirement: She's a busy freelance journalist and is heavily involved with numerous British Fashion Council projects; she also organizes large scale shopping events for Telegraph readers, and works on fundraisers for everything from an animal shelter to a breast cancer charity.
"I can get involved with many more things now," she says of not having to show up daily to the newspaper office. "I do miss the excitement of Paris, Milan, and New York, and seeing Karl, Marc, Stefano, and Domenico. But I see Karl when he's in London, and I text Raf every now and again and say good luck, or try and persuade him to be a judge at Graduate Fashion Week, because I'm a trustee" — yet another activity. "I'm keeping my fingers crossed that we can persuade Valentino."
It's been widely reported that her autobiography is on its way. When she left her job last year, she told British Vogue that she hoped the manuscript would be finished by the end of 2011. Where is it? "Oh god, I should be working on it," she laughs, sheepishly. "I've got notes all over the place, but things keep on getting in the way, and this morning Hello! magazine called and they want 2000 words on spring/summer fashion." She can't say no. And not just because she'll be relying on her pension if she turns work down; she seems to prefer living off the buzz of being busy.
It may be that a career the size of Alexander's just can't be squeezed into one book. She started as a reporter at New Zealand's Manawatu Evening Standard when she was only sixteen, but her first fashion role was at Hong Kong's China Mail in 1969. "I remember thinking 'Oh god — women's pages!', because fashion was considered the graveyard then. I treated it like news journalism. I would dress a girl up in clothes from a new boutique, and stand her in the middle of a busy street. Within seconds there would be a huge crowd and rickshaws all around, and I'd say to the photographer, 'Get the picture!' So then I could write 'Near-riot as boutique opens'."
Then there was her "hippie" period, when she gave up journalism to study art and design, working in the evenings as "a disc jockey, a life-drawing model, and a topless waitress," before embarking on a ten month hitchhiking trip to South America. She returned ("chasing a romantic entanglement") and ended up working for the Hong Kong Trade Development Council. "That was when I think I really got the fashion bug, because I was visiting factories where they were making Yohji Yamamoto's leather and Christian Dior lingerie. That was when I knew that fashion was what I loved."
She's been immersed in the industry ever since. Forty years on, she must have a good instinct for which young designers have a long career ahead of them. "With Christopher Kane, Mary Katrantzou, and JW Anderson, one can definitely see it," she says. "As an editor, when you are first describing their work, you can't reference anything — you have to find new ways of describing it, because the concepts have no relationship to what has gone before. Alexander McQueen was like that — instantly you could see something different."
Soon after that I leave, and she gives me detailed local transport advice, and insists on paying me for the newspapers and cigarettes. Her hectic retirement schedule continues; she is due on the radio soon, to give her opinion on cheap fur. "Apparently you can buy rabbit fur for £35. I think, well, if you're going to kill rabbits to eat them, you might as well use the fur! And it is warm."