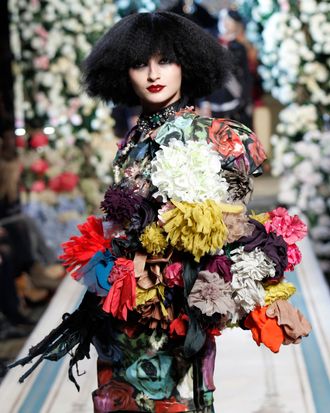 Photo: John Aquino/Corbis
On February 27, the chain plans to present 25 looks from its fall 2013 collection at the Musée Rodin during — but not as part of — Paris Fashion Week, WWD writes. It'll be the first time in eight years that H&M shows its own designs on a runway (not counting Lanvin Hearts H&M, or any other collaboration), the last one being in New York in April 2005. To put this into perspective, the press release for that event, called "H&M live from Central Park," identified Kanye West as a "new hip-hop and R&B superstar," but there was "a 16-foot curtain of orchids," surely the inspiration behind all future flower usage. Looking at you, Raf.
So, why the runway return? Håcan Andersson, a rep for H&M, told WWD, "We felt excited about the collection and we really wanted to show it." Another spokesperson explained to Fashionista, "In the past we have done fantastic and spectacular events and fashion shows with our designer collaborations and we feel it is time to celebrate our own fashion." The retailer has aligned itself with some pretty big names — Karl Lagerfeld (2004), Comme des Garçons (2008), and the aforementioned Lanvin (2010). But its recent partnerships with Anna Dello Russo and Maison Martin Margiela haven't sold nearly as well, indicating H&M should focus on what it does best, which is just H&M. And why not hold a just-H&M runway show? It's a move that might steer H&M toward producing its own better-quality collection, like Topshop, but without the price hike.