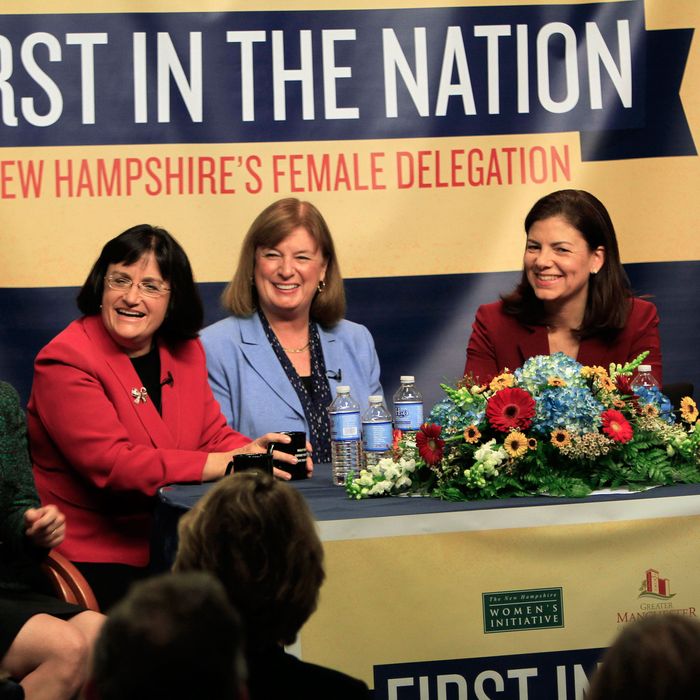 Photo: Jim Cole/AP/Corbis
In November, New Hampshire voters elected Ann McLane Kuster and Carol Shea-Porter to the House of Representatives, sending, along with Senators Kelly Ayotte and Jeanne Shaheen, the nation's first ever all-female delegation to Washington D.C. For good measure, they also elected a female governor, Maggie Hassan. What is it about the Granite State that is so conducive to women in government? We touched on the question, briefly, and we expect N.H. filmmaker Jay B. Childs, currently at work on a documentary about the five women, will have a better answer. For now, the New York Times offers a compelling explanation for the state's unusually strong female representation: It has a huge state legislature.
Reporting from a forum at the New Hampshire Institute of Politics, the Times notes that, although it's known for its libertarian streak, N.H. technically has the biggest government in the country. With 400 seats, the state legislature is the fourth-largest governing body in the English-speaking world, after the U.S. Congress, the British Parliament and the Indian Parliament. "There are lots of opportunities for women to pitch in, prove their competence and learn a lot about governing and the political process," Governor-elect Maggie Hassan told the New York Times, "We've had a very deep bench of women." As a result, there's kind of an old-girl club. Kuster's mother, a Republican state senator who ran for Congress in 1980, mentored Shaheen, who went on to mentor Kuster.
Plus, with pay of just $100 a year, serving in the State House essentially amounts to a volunteer job and women are used to working for free, women aren't hesitant to take it for fear of disrupting their work-life balance or abandoning their children. Not that they won't be asked about them ad nauseum. After praising the law firm that where she became the first ever part-time partner (working four days a week while she raised her children), Senator Ayotte said that while campaigning, she was constantly asked what was going to happen to her children, now eight and five.  "I think those questions are there much more for women than they are for men," she said. "That's just the reality."