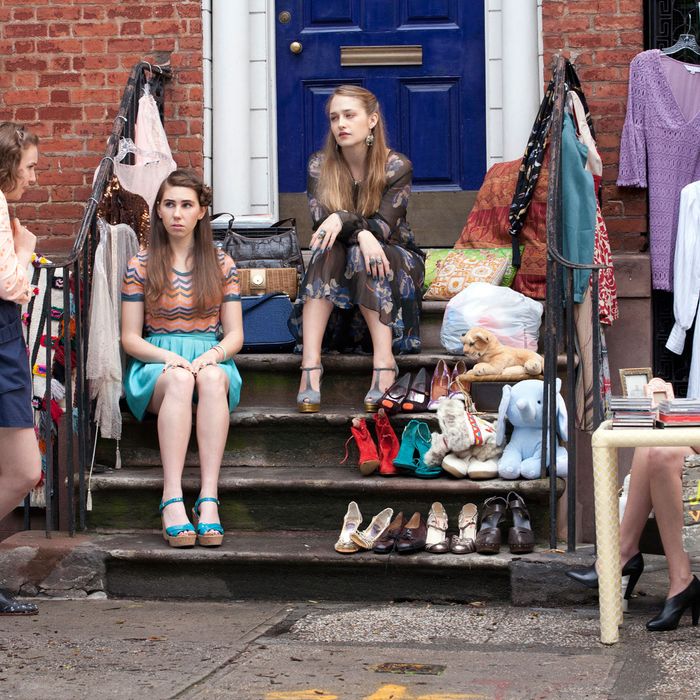 The girls.
Photo: Courtesy of HBO
Jenn Rogien, the costume designer for HBO's Girls, wants to dispel any rumors about "high fashion" items appearing in season two. "It's totally not true," she says, laughing. She'd mentioned Givenchy shoes in an interview a few weeks ago, and her quote got misconstrued through the Internet's game of telephone: "Three versions later, the conclusion was that I had loaned my own, personal shoes to a guest star and how quaint and 'Brooklyn' that was," she says. "And that isn't what happened at all!"
Despite the gossip, Rogien insists that the characters' wardrobes will stay pretty consistent. "When we came back for season two, the first thing that we did was unpack all of the closets from the first season and pull basics," she says. "We reincorporated their existing pieces and used them as stepping stones, just like real girls do. It's not very realistic for any of these characters to get an entirely new wardrobe every year, so we didn't do that either." Instead, she mined vintage and thrift stores like Beacon's Closet and Amarcord Vintage for new, but still worn-in, pieces to integrate.
Lena Dunham's character Hannah Horvath, for instance, re-wears her entire shoe closet (think Bass loafers), and handbags and accessories. But some pieces that got too much play last season were taken out of rotation. "For instance, the blue plaid dress that Hannah wore last season — there was so much association with it, and it had too much attached to it, so we put it in storage," says Rogien.
As for criticism of the character's wardrobes, of which there has been plenty, Rogien says she does her best to steer clear of it. "I was incredibly thankful to be incredibly busy shooting this show, so I didn't have a lot of time to read a lot of the coverage," she says. "Some of the notes were quite critical. I read one piece that was like, 'If I was dressing these characters, I would do everything differently,' and that's when I said, 'Okay, I have to pull myself out of the blogosphere and just focus on making decisions for the characters the way we've been making them all along.'" She adds, "The real world is not the same as the world of our show. And I tried really hard to keep those things separate."
Rogien will sometimes go to great lengths to make the characters look a bit off, as normal twentysomethings so often do. "For Hannah, there are pieces we completely re-cut so that they will fit in a slightly disheveled, slightly rumpled, slightly scattered way," she says. "We're trying to reflect the reality of the characters, but it's also a TV show, so we did take some artistic liberty with the clothes."
Shoshanna Shapiro — Zosia Mamet
We took the chance to adjust just a tad with her losing her virginity. There's a nod to her being more grown up. It's very subtle. Sometimes the shoe has a heel. Sometimes there's not as much pink. All her jewelry used to have bows, and now it's more sophisticated. It's not a complete overhaul, because she's not a completely new person, but there are just a few things just to reflect that she's stepped over a threshold of sorts. That's a line we're always trying to walk with her — slightly representative of a certain type of girl, but all her own. There are a lot of things that are stereotypical about her, but she also has a very specific way of seeing the world. It's about checking the boxes but going a little to the left or a little to the right to keep it from being too on the nose.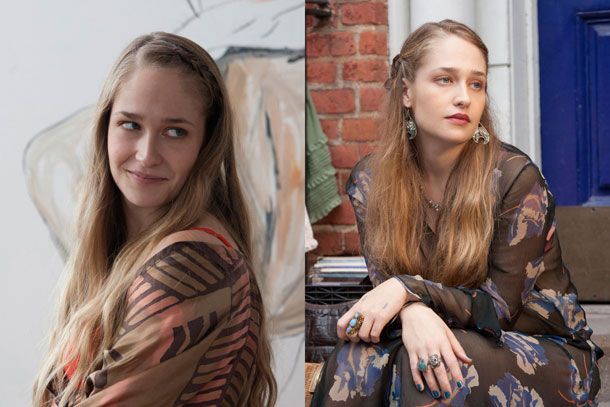 Jessa Johansson — Jemima Kirke
Jessa is already so far on her own path that she just keeps going with her look from season one. The first moment that we see her, she's just coming back from her honeymoon and has a look that's completely her own, and totally pulls it off in a way I don't think anyone else can. And we just try to keep up with her. There's a lot of sheer, and beautiful, beautiful vintage, incredible shoes. She does have a little bit more flexibility financially because she married a venture capitalist, so you'll see some of that reflected, mostly in her shoe closet. Her pregnancy did affect some of her wardrobe in the end of the season, but her character is so fantastic and has such a freedom of silhouette that it was really quite fun. She's so glamorous and fabulous.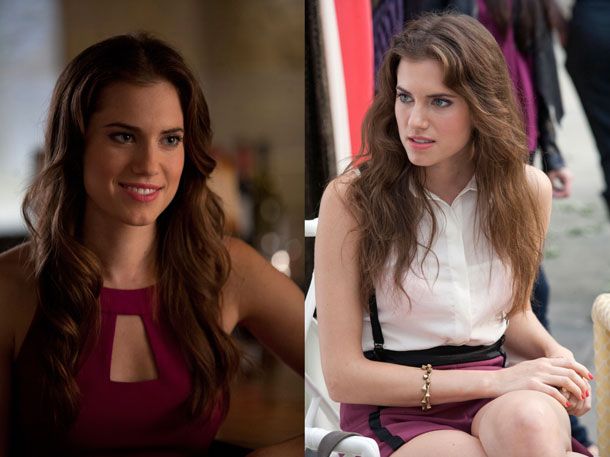 Marnie Michaels — Allison Williams
Remember the crazy Bat Mitzvah dress she wears to that Brooklyn party in season one? She does that again in season two, misses the mark at another party. She relaxes a little bit, but she still tries very hard. She's not living with Hannah anymore, and she's not dating Charlie anymore, and she's moved in with Shoshanna, so she's really finding her footing. Last season, most of her closet was about workwear, and we saw her going to work and from work. This season, we see her in a lot more places, so it was more about finding the look that would complement what she's doing in the story. There are a couple of really specific looks that I'm really excited about, not because they're necessarily great looks but because there's so much comedy in them. There's one look that's been shot by the paparazzi a couple of times, where she's wearing shorts and suspenders and a sleeveless blouse, and that look will actually play a lot for her this season.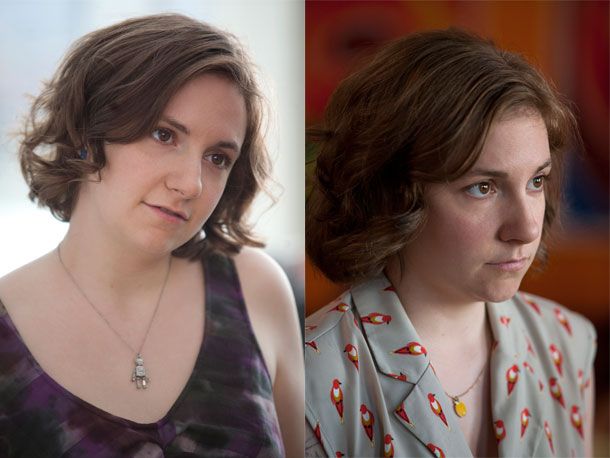 Hannah Horvath — Lena Dunham
We were so successful with the thrifted and vintage pieces for Hannah in the first season that we carried that into season two. We added Amarcord Vintage as a resource for her this year, which is all vintage, but the pieces are a little bit more special than the things you can find at most thrift stores. They do a great job of editing what they're providing. We also discovered a couple of new jewelry resources, just completely by accident, like Erica Weiner, which is still very affordable and very much in our character's world, and Samantha's Charms. So we did introduce a few new things, but very much in keeping with the way Hannah might shop in the world. You know, she finds something new in Greenpoint or in Williamsburg. If it's right for the character, then it's right for us.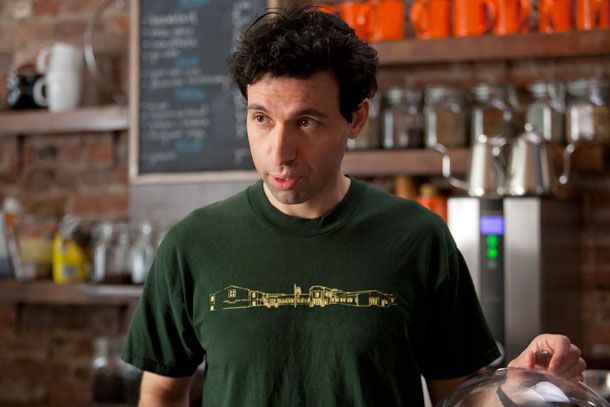 Ray Ploshansky — Alex Karpovsky
We introduced some plaid shirts for him this season because we see a little bit more of him, at work and out and about. I know it doesn't sound like a huge expansion of wardrobe, but for a character like Ray, who's so minimal in his approach, that was quite a step. We also wanted to make sure that Ray's plaids and Charlie's plaids were not the same because it's very easy to overlap. So Ray's are bowling-inspired, to use a strange term. The color palette is gray with a purple or blue box plaid, or olive with mustard, and the patterns are larger in scale. A lot of the actual shirts are from the late sixties or seventies. We found a lot of them at thrift and vintage stores.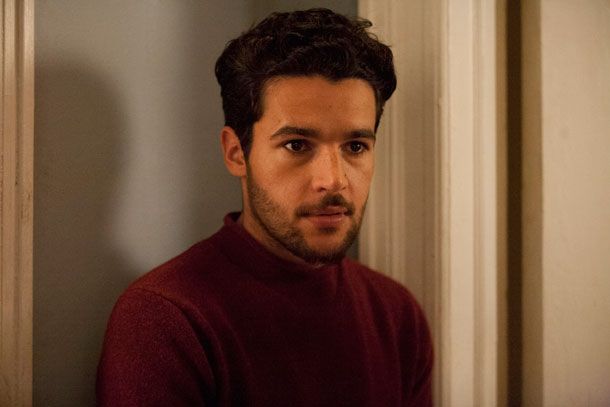 Charlie Datollo — Christopher Abbott
Charlie's plaids are more current and contemporary and have softer colors than Ray's do. When we shop him, we look for things that don't look brand new. We want him to look contemporary and well put together, but we don't want him to look like he's wearing things immediately off the store rack. And he's in a little bit of a new place this season as well, so he's a bit simpler, just in terms of maybe fewer sweaters — although he still does wear a lot of sweaters.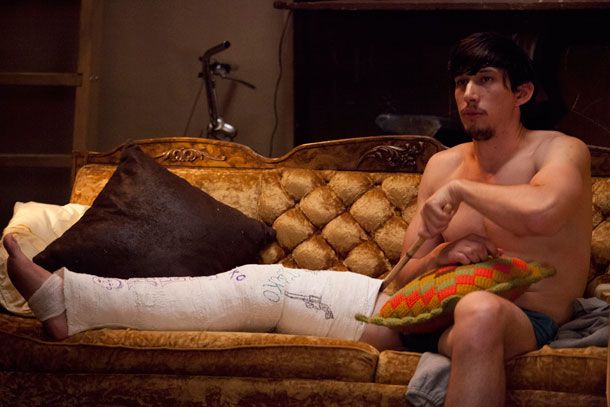 Adam Sackler — Adam Driver
Again, with Adam it's all about the jeans. There were a couple different ones that we slid in and out, but they were all very similar. We spent a lot of time finding the perfect pair of jeans for him, which had to be beautifully worn in, a little bit broken down, they seem thoughtless and careless in the most considered kind of way. The pair we use most often is a vintage pair of Levi's. I think we found them at What Comes Around Goes Around. And the other two pairs are actually from the Gap. And he does wear more shirts this season — well, sometimes.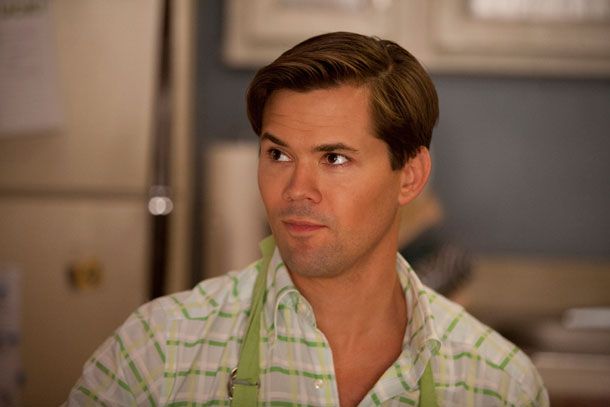 Elijah Krantz — Andrew Rannells
I love dressing Elijah, because he wears everything brilliantly and also because his character has such a specific look. We call it "turbo preppy." And he's got this sort of dance influence in his character because of his work, so we play with that a little bit. There's also a ton of color in his wardrobe, which is very different from other guys, and a lot of fun. He really is a contrast. All of his pants have some insane color in them. Whether it's cobalt blue or bright red or Kelly green, there's always a huge block of color waist down, and then he's always wearing some colorful suede slip-on shoe and no sock. We do a lot of strategic color-clashing to play up the power-clashing that his character goes through.