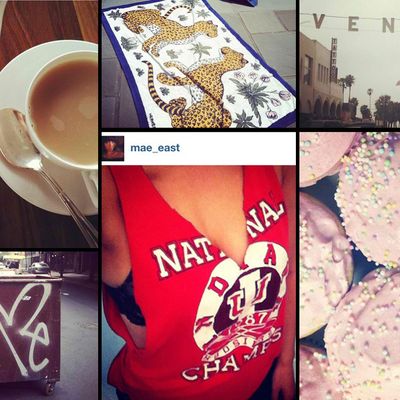 We were sitting on a stoop on my old 9th Street block. It was a summer Saturday night, and we were eating a carton of Ben & Jerry's with plastic spoons, waiting for someone to high-five us. This game was my idea: I haven't been in the East Village once in the last year without a stranger on the street putting his palm in front of me, his button-down shirt often slightly open regardless of the weather, yelling "Give me five!" Within minutes a young business-type gingerly put his hand ahead of him as he passed us. His fingers brushed mine. My companion looked at me incredulously, and I laughed. This was a good first date. We'd already gotten a little Champagne-drunk at Balthazar hours before landing here, with Cherry Garcia in tow.
"How long did it take to finish that sleeve?" the would-be trader asked, stopping and looking at the tattoos on the guy to my right.
"A while. Hey, I met her on Instagram."
"Is that a thing?"
"No, no — it's not," I said, still laughing.
I lied. I think it is.
He'd been following me on Instagram for months — we had good friends in common though I'd never seen him before. I followed him back. A week later he wrote "Come see me sometime?" beneath one of my photos — not of my face, but the spray-painted Fort Tilden concrete sidewalk, emblazoned with the words: "topless as fuck." The dude was classy, obviously, but I knew from creeping his photos that he had a snarky sense of humor, a handsome face, and an affinity for the same Nolita neighborhood staples as myself. We appeared to be neighbors. My answer was yes: at worst, for cocktail party fodder; at best, for the very same reason.
I've met a long-term boyfriend on the L train, an anarchist non-starter on Missed Connections, and a vaguely alcoholic lawyer on the street, when I refereed a conversation between he and a friend about whether or not to stop dating 29-year-old women. (Answer: They're not all looking to settle down.) The randomness of dating in New York is something that I still love with the same humming fervor that kept me warm in my first apartment: A day that starts in one place can end entirely in another — the next beginning elsewhere, still. This was always true, of course — but now we have new ways to get weird. Grindr is most obvious, with its ability to sexualize literally any setting: the morning commute, family dinner, the DMV. Instagram, less overt but equally visual, can serve as Grindr's buttoned-up cousin. Perhaps a bit shy, less forward, but ultimately as suggestive.
I realized back on that East Village stoop, before we'd been high-fived for a third time — my stomach by then aching from laughing — that it was one of the better dates I'd been on in months. It wasn't, however, the first time I'd met someone this way.
Last spring, pawing through followers of friends on Instagram, I stumbled onto a guy whose photos oscillated between Venice, California, and the Pacific Northwest — photo shoots in Los Angeles and dirty hiking boots in redwood forests, jubilant golden retrievers, pastel sunsets, and leafy, homemade meals all topped with poached eggs. Precious, granted, but I followed him, he followed me back, and after a few weeks it was clear that he'd appeared city-side. I wrote "Coffee?" beneath a candlelit photo of Roberta's pizza. "Sure," was his quick reply. "Not sure that you still have my e-mail address, but here you go." (Direct messaging is a large untapped market for Instagram.) The next night, we sat at a bar, eating churros and comparing notes: my Adirondack childhood, his explanation of what it means for a wine to be called "oily." Time well spent, though we soon resumed our relationship in its original form: liking photos of each other's farmers' market hauls.
So Instagram yielded two of the most interesting, decent guys I've recently met. Maybe it's not surprising: This simple photo stream is an intimate (albeit edited) record of our lives — a roadmap, and at best, a humorous, even sexy one. It conveys a surprising amount of information: your neighborhood and surroundings, preferred alcohol, favorite locales, an exhaustive picture of your dining habits, whether you have a sense of humor at all, the general attractiveness of your friends, the overall creepiness of your point of view. The effect of that nonchalant percentage of GPOY (read: "Gratuitous Pictures of Yourself"), slipped delicately between photos of painted toes and rooftop sunsets, the lot of it aglow with the addition of a skin-illuminating "Rise" filter, is one of rosy, mysterious appeal.
Granted, Instagram is a long-game, compared to, say, OKCupid. But it lets straight people circle each other aggressively and unabashedly without having to be on a dating site. Especially straight people, because honestly: Are there any girls on Blendr? I don't know any. Instagram is a portrait of yourself beyond selfies, almost an accidental profile that spares you from having to list your favorite movies or perfect Friday night (and thus leap flailingly from the window while you're at it). It may not be Grindr, but it's lubricant.
Last week I took a photo of a handsome colleague, sitting on the floor of my office, sipping coffee, sunlight streaming through his blond hair (highlights courtesy of "Amaro"). It was only moments after I posted it that my phone started flashing. The first comment, from a fashion editor uptown: "Into it." A few more girls chimed in. He's taking one out next week. If it doesn't work out, he can try the others.