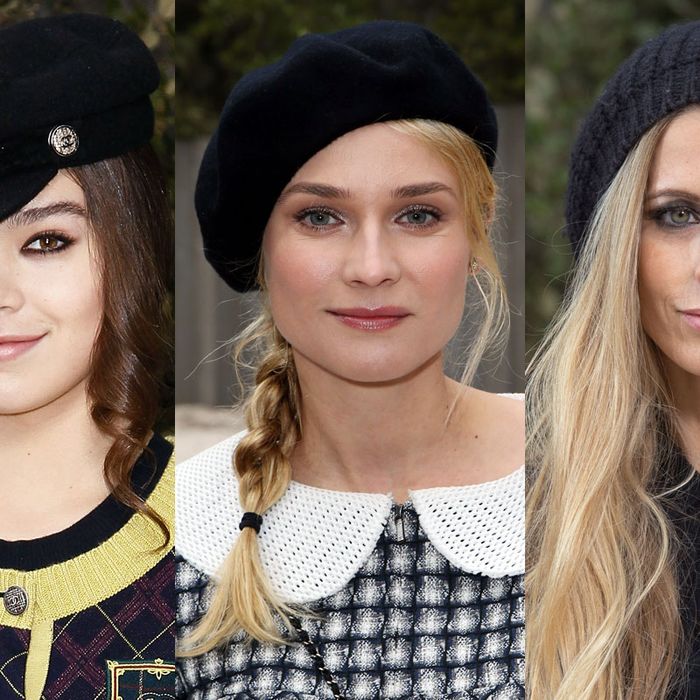 Photo: Getty Images, Corbis, Getty Images
Karl always has the best-dressed troupe of Chanel-wearing guests in attendance at each of his shows. In the days leading up to showtime, we'd like to imagine that the Kaiser dispatches a small army of white-gloved, tuxedoed footman who hand-deliver black boxes with complete outfits to each of his fancy guests. And for this morning's couture show, it seems as if the designer considered the Grand Palais's sometimes wintry temperature and outfitted a few of his ladies in various forms of headgear. But how did the women style their hair for each hat?
Hailee Steinfeld perched her newsboy wool hat on top of what appears to be a hair earmuff. The other ear is kept warm with a curly tendril that looks a bit prom-ish and a lot Amish.
Then there's the impeccably dressed Diane Kruger. Interestingly, she went full-schoolgirl with a side braid peeking out from her beret.
Model Laura Bailey kept her porn star tummy-length blonde follicles in their signature style — down — but with a very loose, subtle wave. This days-old blowout look is our favorite in that mussed-up, we don't give a damn kind of way. With what looks like the help of a dry texturizing spray, her hair is now riding out the last remaining remnants of its amped-up effects. The enormous knit hat is there to cover up any oily roots that even dry shampoos couldn't tackle.