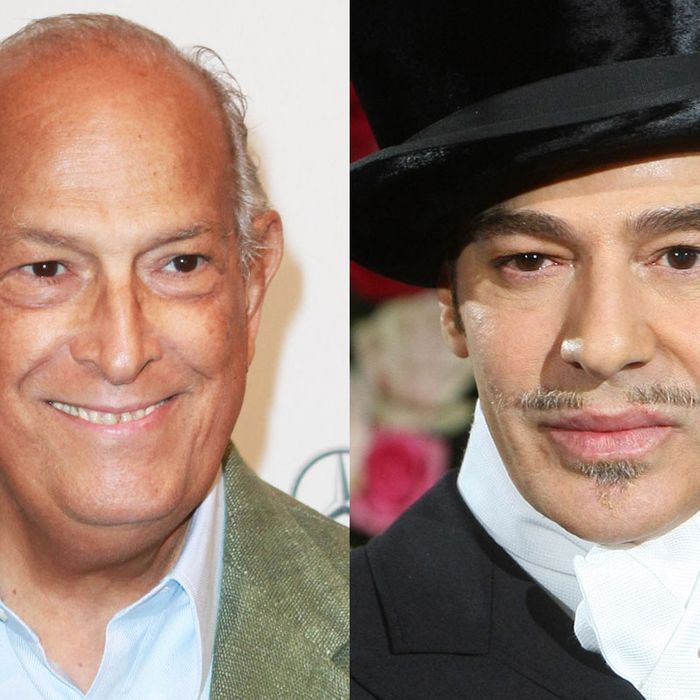 As you might know, John Galliano will be working at Oscar de la Renta's design studio in New York for the next three weeks. Here, we imagine his thoughts from his first day on the job.
6 a.m. My alarm sounds early so I'll have ample time to put together the perfect outfit for my first day. Would a pair of jeans with dangling suspenders be too casual? Is a veil overkill? Eventually, I settle on all black and the Adidas by Raf Simons shoes that he sent me yesterday. I braid my weave and practice a toned-down version of my party face in the mirror a few times. I want a smile that says, "I'm fun to be around," and, "Nothing to record on your camera phone here."
8:30 a.m. After taking the métro — le haha! I mean the subway — I pass by Dean & DeLuca to pick up an espresso and a croissant, which costs two euro in Paris and nearly ten dollars in this city. I do some kvetching to a cashier with shayna punim, but realizing I'm getting nowhere and holding up the line like a schmuck, I go next door and buy a bagel and schmear.
9:15 a.m. I finally arrive at Mr. de la Renta's atelier. It has a picturesque view of Bryant Park, which reminds me of the Tuileries, or the meadows at The Meadows. I'm escorted to my office, made from three half-walls. Inside, there's a desk, chair, computer, phone, and leftover thumbtacks. I introduce myself to the woman in the office next to me. She is wearing pearl earrings and I reminisce about old times.
10:30 a.m. An assistant stops by with my inaugural task. She brings me two boxes — one labeled "Eminence Grisé," and the other, "Hot Dog" — and a stack of mail addressed to Mr. de la Renta. Before she can give me instructions, she's pulled into a meeting, and I'm left to figure it out on my own. I gently place all of the letters into the Eminence Grisé carton, and take the Hot Dog container down to one of those food chariots on the sidewalk. I purchase enough to fill the entire box and take plenty of condiments, as I don't want to flub my first assignment.
1 p.m. Lunch with Mr. de la Renta. He orders in duck confit and a cheese plate for us to share; I spy the hot dog box sitting on his desk. We discuss the intricacies of Kimye for an hour.
3:30 p.m. A different assistant visits me and asks if I'd like to help with pinning. Yes! A fashion-related activity. I pull out my tools and get ready to follow her to the studio, but she explains that she's speaking of something called Pinterest that's on the computer. It takes me the rest of the day to learn how to use it, and the assistant seems displeased when I "pin" pictures like this.
8 p.m. Dinner with Anna (Wintour). When she opens the door to her townhouse, she gives me a hug and says, "How are you?" I reply, "No, how are you?" Over iceberg lettuce, we debate the age when one should stop using "boyfriend" and "girlfriend." I mean, does Shelby like her, or does he like-like her?
11:30 p.m. Bedtime. Overall, it was a very good day.