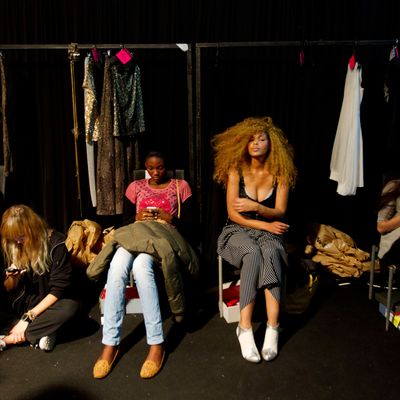 Photo: Ariel Schalit/AP/Corbis
Israel's law regulating the weight and health of local models went into effect today, and early reports suggest eating disorders and low self-esteem have been eradicated forever.
Just kidding. The law prevents designers and advertisers from hiring models with a body-mass index (BMI) below eighteen and a half and requires Israeli publications and advertisers to disclose when they use "altered images of models to make the women and men appear thinner than they really are," according to the The Wall Street Journal. The law is part of the larger international movement to improve the health of models and beauty standards presented to fashion-magazine readers, which here has resulted in the CFDA banning models under 16 and Seventeen promising to never use Photoshop to alter a girl's face or body.
We're all for stricter regulations on advertisers — we fantasize about affixing cigarette-style FDA warnings to fashion ads with sick or digitally slimmed models — but we're not holding our breath for the body-acceptance revolution. Madrid and Milan's Fashion Weeks ban models with BMIs lower than eighteen and eighteen and a half, respectively, but the rules have been hard to enforce. Meanwhile, Israel's fashion industry, though growing, is tiny, and its laws do not apply to advertisements and publications produced elsewhere. Regardless, get ready for lots of people to complain that BMI is an outdated and useless measure of health and that the arbitrary eighteen and a half cutoff will prevent lots perfectly fine girls from modeling. As if the fashion industry didn't already exclude lots of perfectly fine people.