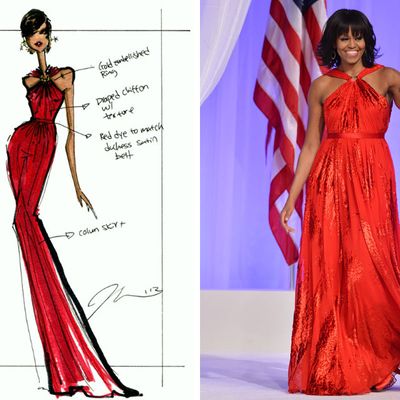 Photo: AlinaChoCNN/Twitter.com; JEWEL SAMAD/AFP/Getty Images
The First Lady's two-time inaugural gown designer — who tweeted last night that he was "#Inshock!!!" — could form complete sentences by the time WWD got to him, remarking, Mrs. Obama "surprised me again. She's really good at it … I was so nervous. You'd think I wouldn't be since I'd experienced it before but I really was." Of his design process, he said, "Last time, I had to go with my gut. I instinctively had to think of the woman in the dress. After four years in office, I thought the country was ready to see a confident First Lady in red." As for Wu's career, perhaps most telling is how he spent the pair of inauguration nights: Four years ago, the designer was at home eating pizza with a friend (his trio of employees, elsewhere), while this go-around, he was popping Champagne in his downtown atelier with his 30 employees … and running to the phone to talk to Ma and Pa Wu.
Above, at left, a sketch of Wu's gown from Alina Cho's Twitter.