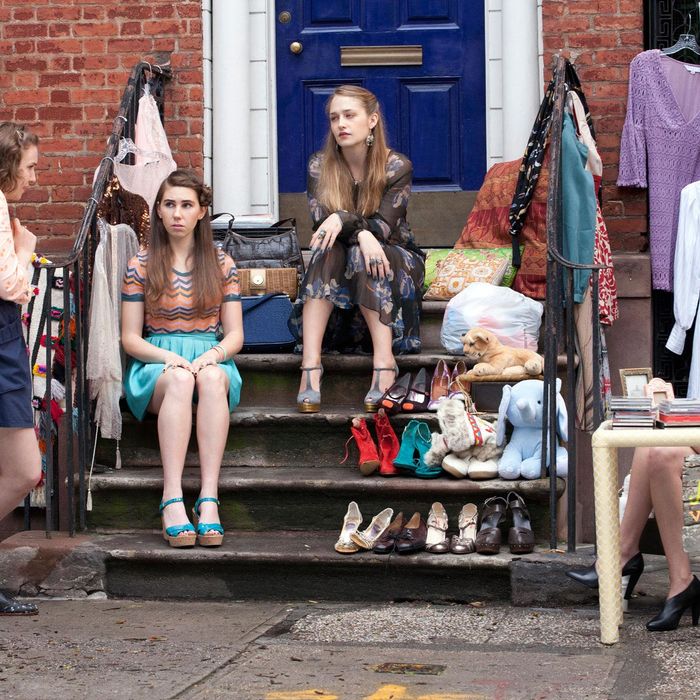 Jessa's YSL heels, in all their glory.
Photo: Jessica Miglio/HBO
Last night's episode of Girls was hands-down the most fascinating sartorially, if not plot-wise as well, of the show so far. Marnie's totally absurd work uniform got ample airtime, and both of Hannah's terribly awkward clubbing-on-cocaine outfits set a high precedent for the term "power clashing." Also, Jessa wore these gold YSL wedges, bringing truth to the rumor that designer footwear would make it into the show this season. Read on for an in-depth analysis of the characters' wardrobes from costume designer Jenn Rogien.
Given how much play Hannah's shorteralls have gotten this season, it's interesting that Marnie's work uniform consists of "sexy" shorteralls.
Well, that's actually shorts and a blouse, with suspenders, not shorteralls. But it's a very fine line. We happened to find suspenders that matched the tux stripe on the shorts.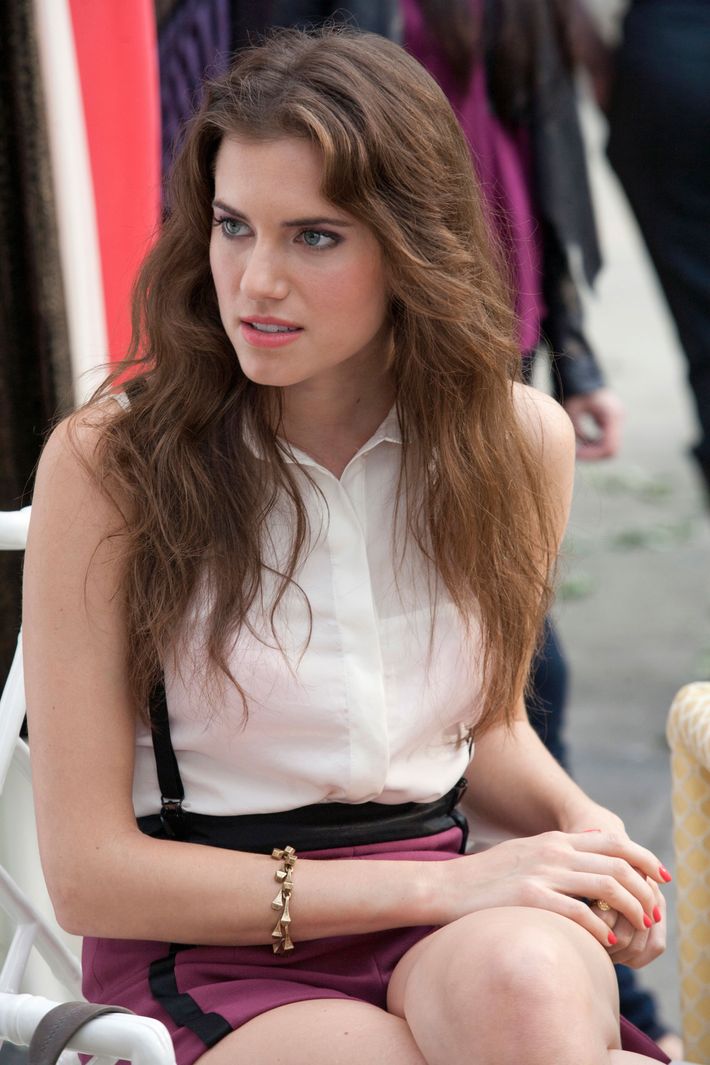 How did you pick her uniform?
We wanted to tie into the "pretty person" job element of the members-only club she's working at. When we were putting that uniform together, we looked at a lot of very high-end hotel uniforms or high-end members' club uniforms. And we landed on this combination of embellished sleeveless blouse and shorts as a nod to the "pretty person" part. The uniform is meant to be sexy and also make Marnie feel very awkward about this new position that she's exploring.
I noticed in this episode, in the stoop sale scene, that Jessa looks like she's wearing Yves Saint Laurent wedges. Was that a nod to her wealthy new husband?
Yes, she is! Jessa has always had an incredible shoe assortment, even back in season one. So it's really a continuation. We bought those YSL heels on Bluefly, which was very character-driven — it seems like Jessa would shop that way.
That stoop scene is great because each girl is really dressed like an archetype of her character.
That was one of my favorite scenes for exactly that reason, because it was a great way of reflecting each girl's individual moment. And we got to see shoes! It's so uncommon to see shoes on television. Getting to show each girl's look from head to toe was really rewarding.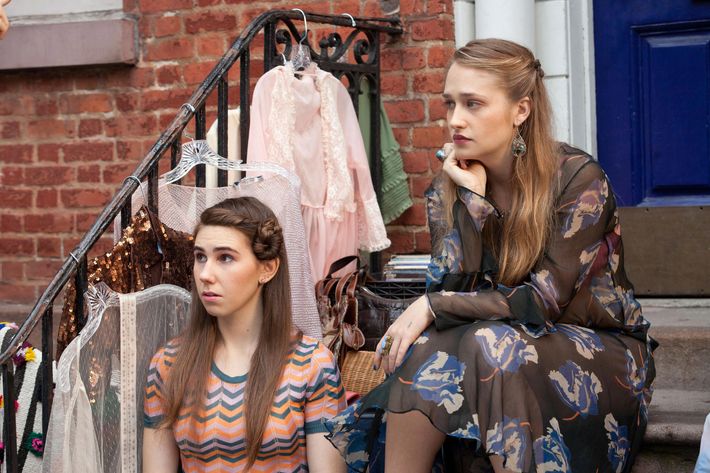 Shoshanna wore an odd, zig-zagged sweater in that scene. What was that about?
That sweater is a great example of what we're doing with her color palette for the second season. We're saturating it just a touch in an effort to grow her up. She's also wearing a wedge in this scene, which is a first for Shosh. She didn't wear many heels last season, so we're trying to use very subtle methods to move her forward a bit.
It's excellent that Laird the junkie wears a beanie. Where did it come from?
That was the actor's own! That beanie inspired the whole character. He was brilliant. He was so game for building the wardrobe off of that hat, even though it's his own.
And finally, getting to my favorite costume moment in the season so far, we must discuss Hannah's two separate coke outfits.
The fruit shirt was custom made for Hannah. It has fruit buttons down the front of it as well. Lena was really insistent about the fruit pattern, and we just ran with it. There are a surprising number of fruit-patterned fabrics available! We wanted a clashing, completely unrelated top to bottom, and boy oh boy do they not work together. That was a lot of power clashing.
Then she transitions into the yellow mesh shirt. Where did that come from?
Yes! In the middle of the club, nonetheless. The character that she changes with — whose official character name is "guy with side ponytail" —  was written to be a club kid, and so we went that route when shopping for him. You can't see it onscreen, but he's wearing an insane pair of tie-dye leggings that have been overprinted with metallic gold squiggles. And, of course, that chartreuse mesh top. When Lena scripted that in, she said she wanted something that would be the most awkward and uncomfortable thing to be stuck wearing for a period of time when you find out things about your friends that you don't want to know. We looked at lots of different colors — neon blue, neon pink, neon green —  I mean, everything in mesh is neon. It happened to be that the least flattering color for Lena is this neon green, and it would also stand out at the club in a way that you would notice it right away and think, What's going to happen here?
The funny part is, we originally had a different version of the tank top that had smaller mesh bars running as horizontal stripes, and one fell right across Lena's chest, which looked like a censor bar. So that was comedic in itself. But then we went with the one you see in the episode, which was more of a traditional mesh top.
How would you define "power clashing"?
Well, I have actually been doing power clashing on a completely different wavelength for years. When I worked on The Good Wife, we would use power clashing in menswear to come up with sophisticated and fantastic-looking guys. We'd take a shirt that's a strong color and a strong pattern, and then clashing it with a tie that's a different color in the body but has a coordinating color in the print on some level. So to use the same term in such a different way and different execution on Girls was so hilarious for me. Elijah also does subtle power clashing in his own wardrobe all the time, like the floral-trimmed shirt he wore in this episode.