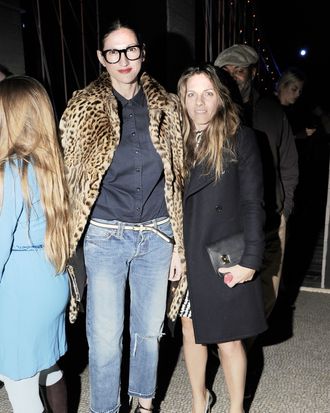 Photo: Patrick McMullan/Patrick McMullan
At Glamour's Women of the Year Awards in November, upon receiving her "Fashion Original" honor, Jenna Lyons thanked both her son, Beckett, and one Courtney Crangi (who "has shown me new love") — confirming rumors that she started seeing a woman after splitting from her husband Vincent Mazeau. Fast forward to yesterday's "Sunday Styles," in which Lyons explained to the Times that she felt ready to make mention of her relationship. In a room full of people.
"When I was young and people judged me for things I had no control over, that was really hard, so I'm incredibly open to people doing whatever works for them," she said. "It's just as surprising to me as it probably is to everyone else. It certainly is strange to wake up, at 44, and look at the person next to you and think: 'Oh! This wasn't what I expected.' But I don't think love works that way, and I am O.K. with that."
The J.Crew creative director admitted, "It has been challenging this past year" with the increased interest in her personal life. CEO Mickey Drexler said, "I saw her grow dramatically from having suffered that adversity — grow in her own confidence, in her own appeal. And it wasn't like she hired a bunch of public relations people to cover anything over. She handled it with a great amount of dignity."
And with sunglasses. Lyons remarked, "I keep my sunglasses on … Too bad I'm six feet tall." And so funny! When can we hang out and wear boyfriend capris with our leopard-fur coats draped over our shoulders just so?