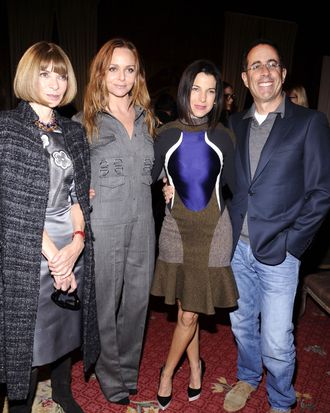 Peas in a pod.
Photo: CLINT SPAULDING/Patrick McMullan
Last night at Stella McCartney's pre-fall presentation, Jerry Seinfeld looked very distinguished in soft, layered cashmere and tan suede shoes. But he took no credit for his outfit, instead deferring to his wife, Jessica, who explained that she now vetoes his signature white sneakers. "It's just jarring," she said. "It's not the high-low thing done well. And it breaks the line!" she joked, gesturing to her husband's leg. 
Eager to hear more about their sartorial decision processes, we pressed on:
Jerry: Just as long as my wife is okay, then I don't care what anybody else thinks. I go, "What do you think of this?" And then I just watch the face. A wife's face for a husband is like a dashboard of a car. I know all the dials. I know when I'm getting into the red zone.
NYM: What items are always in the red zone?
Jerry: My wife hates white sneakers.
Jessica: No, I hate your trademark white Nike sneakers. Only because there are darker options now, and I think a man of your dignified age and elegance could maybe go with a dark grey or black. Or the New Balance. I'm not trying to turn you away from Nike, because we love Nike, but —
Jerry: I'm wearing a chartreuse pair of Nikes now, and they're getting a lot of comments.
Jessica: I do like them. They're Cole Haan. [She adopts a Jewish grandma voice.] These are the Cole Haans that I got him.
Indeed, Jerry corrected, they were a Nike–Cole Haan blend. Compromises!