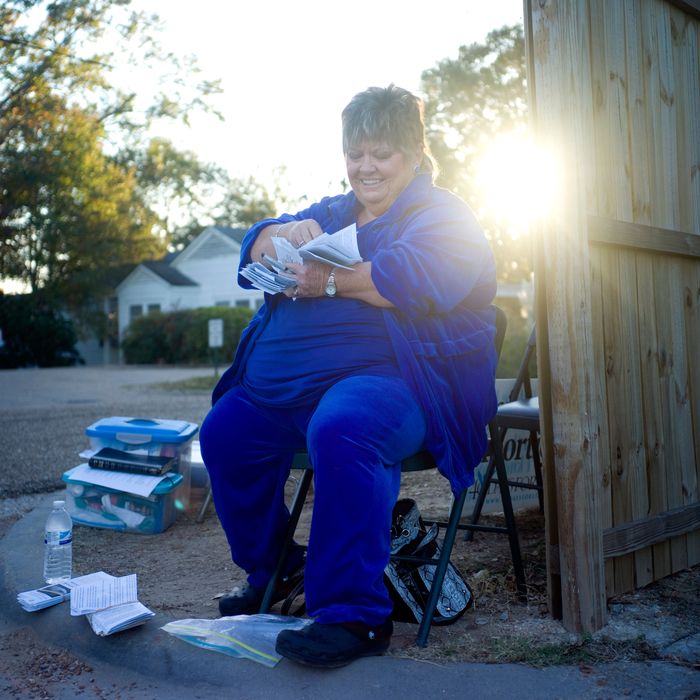 Photo: Maisie Crow/The Atavist
Ester Mann held what looked like a red leather purse with giant bejeweled crucifix — it zipped up like a clutch and inside it was her Holy Bible. She'd been reading out loud from it at regular intervals for at least twenty years, or as long as protesting abortion clinics had been her equivalent of a part-time job. Over the years, her husband has lost professional contacts owing to this avocation, she said. In our conversation, she ranged from down-home medical advice about a thyroid condition to telling me about "the thousands of mothers" she'd spoken to over the years. "Who among them wished they killed their babies?" she asked me, rhetorically. At one point, a fellow protester took out a black case and, with a dramatic flourish, opened it to show a line of small plastic fetuses at different stages of development.
In the weeks leading up to the 40th anniversary of Roe v. Wade, Mann's  fervor was only intensifying. We were in front of the last abortion clinic in Mississippi, Jackson Women's Health Organization, located in the state capital. Mann and her colleagues at Pro-Life Mississippi, along with Mississippi's governor and top legislators, were trying to get the clinic closed down; it is still open now, pending a legal decision on its fate.
The war over choice is raging around the country. Five states now have only one clinic each. But some of the contours of the protest are new. Mann, for one, didn't just use the same old anti-abortion rhetoric. She eagerly called herself a "Jesus feminist." What did she mean by this, I asked? Mann, a heavyset woman with layers of mascara, smiled. "Jesus loved women," she said. "And I believe in equal pay for equal work." Mann then handed me a pamphlet, as she continued to call out to women as they entered the clinic.                     
Elsewhere in the U.S. and Canada, it turns out the term "Jesus feminism" is also in vogue. The phrase has been embraced by Sarah Bessey, whose book Jesus Feminist: Life on the Other Side of Our Church's Gender Debates will come out this year from a religious imprint of Simon & Schuster. When I spoke to Bessey by phone from her home outside Vancouver, British Columbia, where the 34-year-old raises her three children, she put it like this: "I am a feminist because Jesus made me one."
"The word feminism in a lot of evangelical churches is a bomb being dropped," Bessey told me. "I'd like to reclaim our place in the history of feminism, in secular scholarship: Feminism has a lot of roots in women of faiths."
Christian feminism is not new by any stretch. It goes back to the nineteenth century, where faith intersected with the abolition and suffrage movements. It has flowered in more recent decades as well.
But today's "Jesus feminism" can seem a close relation to another phrase, "pro-life feminism." Earlier this month, Time published the opinion of purported "pro-life feminist" Elizabeth Buchanan, vice-president of the Susan B. Anthony List. It would seem that Buchanan was trying to create a new founding myth for feminism: According to Buchanan, the feminist foremother "[Susan B.] Anthony called abortion 'child murder' … the neo-feminists of the 1960s and '70s who asked women to prize abortion as the pathway to equality." This reframing — revising history and also renaming themselves to potentially seem more centrist — is a tactic also embraced by anti-abortion groups like Feminists for Life.                         
So is "Jesus feminism" also just another way to package anti-abortion politics, the hard-edged religious fundamentalist draped in the veil of secular lingo? It certainly might seem of a piece with the blurring nomenclature around the pro-life and the pro-choice — Planned Parenthood wanting to stop using the "pro-choice" label; anti-abortion advocates using the-personal-is-political discourse that was once the precinct of "pro-choice" feminism; even the "pro-life feminist" sobriquet itself. As Amanda Marcotte wrote recently, the "SBA List is on the anti-feminist side on pretty much every issue, including equal pay and violence against women." Yet they use the name of a feminist foremother.
I think of this shifting language and identities as a sort of political cross-dressing. Under the guise of Feminists for Life, anti-abortion activists are using the argot of feminism to counter some of the movement's precepts.
But according to the earnest Bessey, "Jesus feminism" is more than just a cooler, stealthier anti-abortion position. "I am against systemic patriarchy and the effect it has in America and the world," Bessey tells me. "[Sexism] is not God's dream for humanity. Women are not just what they look like, how much they make, how thin they are, and how quote unquote hot they are." And Bessey writes most lucidly and convincingly when addressing her intended readers in the church. "Please stop treating women's ministry like a Safe Club for the Little Ladies to Play Church," she writes. "We are smart. We are brave. We want to change the world. We run marathons to benefit our sisters, not so that we can lose weight. We have more to offer to the church than our mad decorating skills …"                           
I welcome this part of Bessey's "Jesus feminism." It's a lot more than empty repackaging or appropriation. Yet I fear where the phrase may ultimately travel. After all, when promoting her own version of "Jesus feminism," Ester Mann and her colleague from Pro-Life Mississippi try to get their signage as close to the clinic as legally possible. Sometimes, the police come and tell them they'll have to back off. All the while, Mann tries to dissuade young women and girls who are entering the premises. And on the 40th anniversary of Roe, she calls herself a feminist, while fighting for all the clinics to close.
Alissa Quart's latest project is "The Last Clinic," a reported essay about the last abortion clinic in Mississippi that is part of a multimedia project for the Atavist with filmmaker Maisie Crow, telling the full story of Jackson Women's Health Organization. Her research was funded in part by a grant from the Economic Hardship Reporting Project.