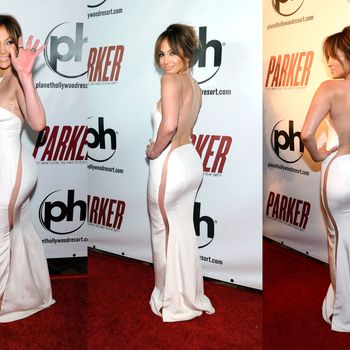 At a Las Vegas screening of her new movie Parker last night, Jennifer Lopez wore a Kaufman Franco gown that raised an important question: What is the etiquette for wearing a borrowed gown that is designed to be worn without panties? If J.Lo's naked butt touches the gown, and then you borrow the gown next and the gown touches your butt, does that mean you touched butts with J.Lo? 
Is going commando in a borrowed dress the sexual equivalent of sharing a straw with a boy in the school cafeteria, and then everyone is like, "you just kissed"? But in this case, you just scissored? Do the properties of transitive relations apply to private parts in gowns?
To be clear: I am not opposed to butt-revealing gowns. I love butt-revealing gowns. I love this butt-revealing gown, and would personally wear it, if I had a butt worth revealing and a red carpet on which to reveal it. My point is merely that, as we face the dawn of a new age of butt-revealing clothing, we need to establish an etiquette. Maybe wearers of butt-revealing gowns should be required to pull a Beyoncé and dry-clean after use?
Speaking of icebergs, remember the time J.Lo sang the theme song for Ice Age 4: Continental Drift with Drake and Nicki Minaj? Also pretty revelatory.