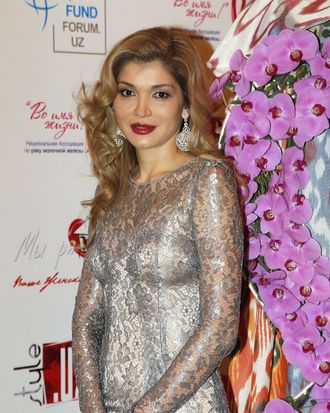 Gulnara Karimova.
Photo: Yves Forestier/Getty Images
Gulnara Karimova, the 40-year-old daughter and expected successor of Uzbek dictator Islam Karimov, doesn't really do interviews. Instead, she prefers to get publicity on her own terms. In 2011, she staged a fashion show in New York for her eponymous clothing line, which includes designs made from cotton that Uzbek children have been forced to pick for free instead of going to school. (IMG banned her show from taking place at any New York Fashion Week venues, but she had it anyway, at Cipriani.) Last year, she released her first album on iTunes, which is described on her charitable foundation's website as an "exotic pot-pourri of melody and a personal confession in front of the force of deep emotions." She appeared at a bunch of red carpet events at Cannes last summer, and she's on Twitter.
When New Yorker journalist Natalia Antenava tried to interview Karimova in 2008, she was directed to a "middleman" in Moscow who offered her 30 minutes with Karimova in exchance for a $20,000 cash advance. (Needless to say, the interview never happened.) But when Antenava saw that Karimova responded regularly to tweets, they started conversing online for free. Karimova even gave out her personal email address (dadu5@yandex.ru, should you be interested).
Unfortunately, Karimova never responded to Antenava's queries about women who had been involuntarily sterilized in Uzbek hospitals, supposedly as part of a government initiative to curb the growing rural population. She also ignored questions about documented cases of torture. Maybe she's holding out for a Vogue profile, which surely isn't outside the realm of possibility.