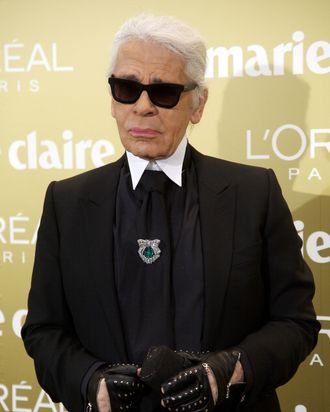 Karl Lagerfeld.
Photo: Jack Abuin/Corbis
Of the many Karl-isms that Lagerfeld dropped at WWD's CEO summit yesterday, he mentioned that he's showing Chanel's Métier d'Arts show in Dallas next year. Et pourquoi? First off, it's the opposite of the drafty old Scottish castle where he showed in December, and there won't be snow. Secondly, he loves Texas! His exact quote:
I love Texas. I love Texans. There's another reason. When Chanel reopened, the French press was beyond nasty. The only press that understood it immediately was the American press, and Neiman Marcus gave her the Oscar for her collection, so I think it's a nice thing to go there.
In other words: Those Dallas ladies, they love their Chanel bags and their Neiman's. And Karl never forgets a favor, or a slight. Now we have all year to imagine all the Texas-themed accoutrements, like quilted saddlebags and pearl-studded spurs.