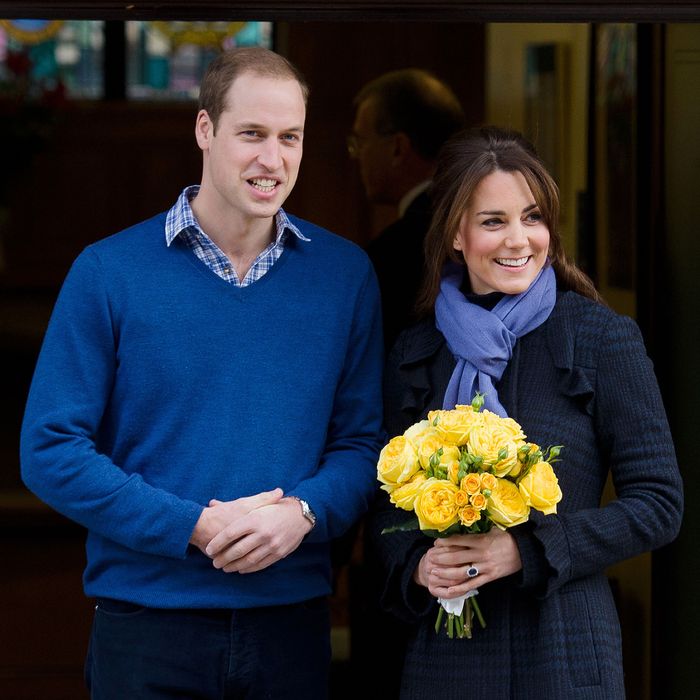 Royal parents-to-be.
Photo: LEON NEAL/AFP/Getty Images
According to a formal statement issued on the Duke and Duchess of Cambridge's website today, Kate Middleton has been feeling much better since she was hospitalized for hyperemesis gravidarum, a pregnancy-related illness, in December. Or, as they put it, "The Duchess's condition continues to improve since her stay in hospital last month." Even better yet, the announcement narrowed down the baby's due date: "Their Royal Highnesses The Duke and Duchess of Cambridge are delighted to confirm they are expecting a baby in July." So, a baby, singular, which means no twins, counter to previous speculations. This will make the birthing process much less complicated, both physically for Kate and when it comes to picking an heir (if a C-section took place, the doctor would have to choose between the babies).
This news comes on the heels of the Queen's decree last week that Kate and Will's child will be third in line for the throne regardless of its gender, after Prince Charles and Prince William, respectively; normally, the firstborn son would usurp an older daughter, but not in this case. And finally, a July due date means that Kate could have been impregnated as late as November, and is earlier in her pregnancy than previously thought — she's possibly not even through her first trimester yet. Just think, seven more months of maternity outfits to look forward to!