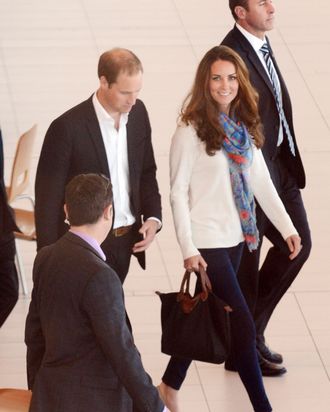 Kate Middleton, in jeggings.
Photo: Mirrorpix / Splash News/Corbis
Since Kate Middleton's bout of hyperemesis gravidarum has relegated her to London, she's occupied herself with mind-numbingly normal activities like walking her dog in the park, getting decaf coffee at Starbucks, and eating cookies. On Friday, she continued practicing for her future existence as a suburban mom by meandering into the Gap and shopping for jeggings, according to People's source, who eavesdropped on Kate's scintillating discussion about pants. "She said she liked very skinny jeans," the source said. "She didn't buy anything as she couldn't find the right leg length."
After her failed browsing, she went to Pret-a-Manger, although the "source" totally slacked and neglected to report her order. A mozzerella and pesto Toastie, perhaps? What does Kate put in her custom-tossed salad, we wonder? Next week's agenda: She'll poke around in Primark and make a quick stop at Boots for toilet paper (always running out when you least expect it!).