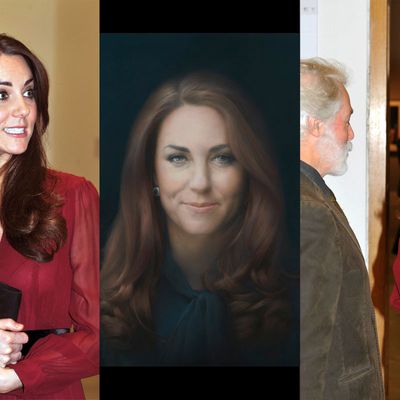 Kate reacts to her portrait.
Photo: Getty Images, Paul Emsley, Getty Images
Kate Middleton's first official painted portrait — that is, commissioned by the National Portrait Gallery, not lovingly created by her Etsy fans — was unveiled today in London by the Scottish-born artist Paul Emsley. Kate herself was there to see it, looking flat-tummied as usual, and reportedly called it "absolutely brilliant." According to Emsley, the decision to portray her smiling oh-so-slightly instead of looking stern was a momentous one. He's quoted on Kate and Will's official website:
The Duchess explained that she would like to be portrayed naturally - her natural self - as opposed to her official self. She struck me as enormously open and generous and a very warm person. After initially feeling it was going to be an unsmiling portrait I think it was the right choice in the end to have her smiling - that is really who she is.
Of course, it would've been a tragedy to waste her dimples with a serious expression, too. But frankly, this portrait looks rather odd. She appears frozen in the midst of an awkward moment, like paintings at Hogwarts that come to life when they feel like it. If you cover up the lower half, you'll note that she is not smizing. (Luckily, there's an app to fix that.) Also, there's a bit too much cheek action, as though she's flexing all her facial muscles to suppress the giggles — which, come to think of it, she probably does quite often in her everyday life. One nice touch: The earring on her exposed right lobe was obviously adapted from her famous engagement ring.
In related news, it turns out Kate did make an outing on her birthday earlier this week, that sneaky fox. Although the palace said she would celebrate "privately," E! News has her on video with Prince William and her whole family at Cirque du Soleil in London on Wednesday. At least we were right about James Middleton being there. Of note: Prince William wore wire-rimmed glasses and hooted. He's such a dad already.