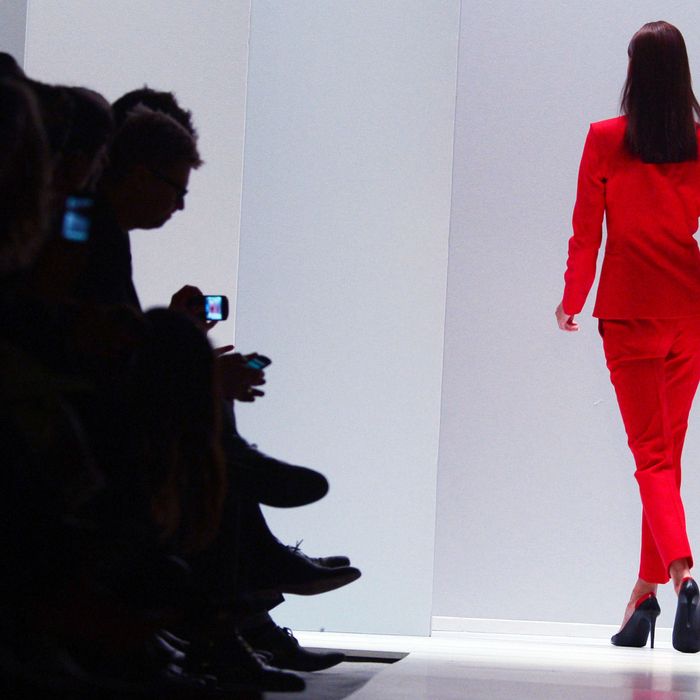 Photo: Jens Kalaene/Corbis
Since New York's Fashion Week schedule is cluttered at best, it was smart thinking of KCD — the public relations firm that does a great deal of NYFW planning — to create a platform last year that let industry people watch runway shows online that they might not have time to attend. (Or, you know, weren't invited to.)
For this season, they've opened the Digital Fashion Shows site to the public, where anyone (even you, readers) can watch the shows, then embed the video on blogs, share the images of favorite looks on the social media, and e-mail the front-row view to your mom in an attempt to further convince her that life is fine/fabulous.
The marquee event, as it were, will be when Peter Som — who is forgoing his own, live show this season — presents on the digital runway (February 13, 9 a.m.). Alexandre Plokhov, the cult designer who started Cloak last decade, will be the first menswear designer to show on the site (February 9, 10 a.m.), and a day before, Pierre Balmain will present a women's and men's collection from Paris (February 8, 9 a.m.).
We'll be watching in our pajamas — so feel free to send the street-style photographers chez the Cut.