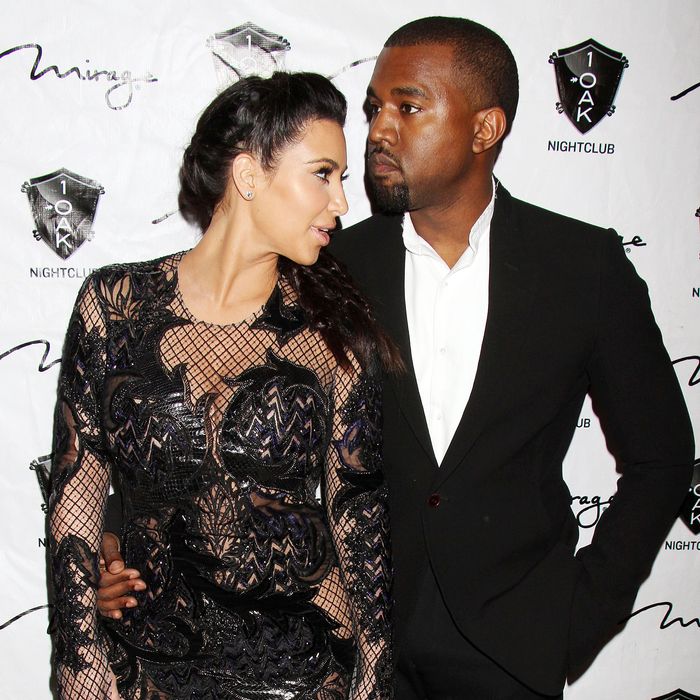 Photo: enewsimage.com/Corbis
Kim Kardashian has turned down a $3 million offer from an overseas tabloid for the first photos of her future baby with boyfriend Kanye West, TMZ reports. The news and its placement appear to be the final nails in the coffin of the celebrity baby photo industry. Remember when George W. Bush was president, and the spawn of pseudocelebrities like Nicole Richie and Jamie Lynn Spears, interchangeably newborn and still a little purple-tinted, regularly commanded upwards of a million dollars? That era is over.
Brad Pitt and Angelina Jolie produced the last children of the baby photo boom, raking in more than $10 million from People and Hello for pictures of twins Knox and Vivienne, which they reportedly donated to their children's charity. Then the recession hit, some magazines stopped paying for baby photos altogether, and social media was invented, flooding the market with a surplus of celebrity candids and allowing famous people to take publicity into their own hands. In 2008, Matthew McConaughey got $3 million for pictures of his first born, Levi. By the time his second child, Vida, was born in 2010, he was posting snapshots to his blog. Last year, Gisele refused to confirm her pregnancy to the press but once it was all over she posted a photo of daughter Vivian Lake's itty bitty hands on Facebook for all to see.
Even as celebrity picture sales became devalued and outré, the Kardashian family clung to the covers like the cockroaches of the print media apocalypse, auctioning off minor exclusives and then performing the biological imperatives necessary to generate more exclusives, until now.
Kim's wedding to Kris Humphries was televised in a two-part E! broadcast that brought in 10.4 million viewers, but her pregnancy was was revealed offhand, before a baby bump to speculate over even existed. In a mid-concert shout-out, Kanye implicitly spilled the beans with his beloved's new epithet — baby mama. The non-announcement, which came after the celebrity weeklies had gone to press with other, not-pregnant Kardashians on their covers, angered Kris Jenner and the staff of US Weekly alike, according to the Daily News.
It seems to signal the beginning of a new, less monetizable era in Kim's personal life. Her intermediaries told TMZ that the baby will not be a character in an upcoming season of Keeping up With the Kardashians. The news that Kim's private life won't be exposed, of course, only brings more exposure, in line with Kanye's "Mercy" axiom: "Don't do no press but I get the most press."
For comparison, Kanye's colleagues "fam" Jay-Z and Beyoncé (who reportedly snubbed an overdressed Kim at Kanye and Jay-Z's concert), took the mantle of gracious celebrity parenthood from Brangelina by acting like the anti-Kardashians, dodging the tabloids but appeasing their fans with a curated-casual Tumblr photo album of Blue Ivy. Now Beyoncé's playing the Superbowl.
Of course, Jay-Z and Beyoncé are both breadwinners, whereas Kimye has a little less than 1.5 breadwinners if Kim gives up her career as a tabloid character. But if she's hard up, there are still options: These days the good celebrity-mommy money is in weight-loss program endorsement, not baby photos. Exclusive shots of Jessica Simpson's first-born, Max, pulled in $800,000, but her Weight Watchers deal was worth at least $3 million. And with Simpson pregnant again, they might have a job opening.