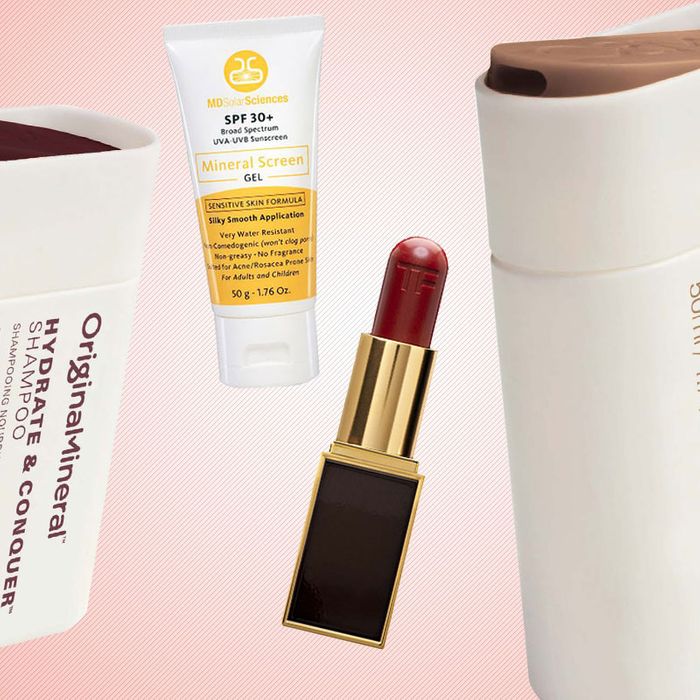 Each weekend, I test out a few of the many beauty products to hit my desk so you can decide if you want to also.
Original & Mineral Mini Hydrate and Conquer ($9.95): Hair never feels more dry than right around this time of year. So when I started packing for a tropical getaway — where sun, saltwater, and chlorine replaced radiator dryness — the first things to go into my travel kit were these mini-bottles of ultrahydrating shampoo and conditioner. These creamy washes added hydration to follicles while also taming the frizz factor. It even kept knots and tangles at bay after dips in the ocean. And now whenever I use the stuff and catch a waft of its coconut scent, it takes me back to being poolside with a frozen fruity drink in my hand. 
Tom Ford Lip and Cheek Stain in Tainted Love ($48): If you're into packing light, whether for a trip or your everyday makeup bag, try a tube of mascara and this supremely elegant two-in-one stick. The domed bullet provides precise application for a sheer tint on lips and blendable, glowy color on cheeks. The sad part of this story is that this particular product was limited edition and now no longer available anywhere. However, I love it so much that I'll probably end up sending the last remnants of it to Three Custom Color Specialists, who are known for their ability to color match any discontinued makeup item. Their Mom on the Go lip and cheek stain is also a pretty close replacement.
MD Solar Sciences SPF 30 Mineral Screen Gel ($24.95): Unlike other mineral-based sunscreens, this light, unscented formula rubs easily into skin, leaving a matte, non-sticky finish. The white and almost creamlike texture absorbs like a true transparent gel. Even after multiple dips in the water, your skin won't turn a ghoulish, chalky white.