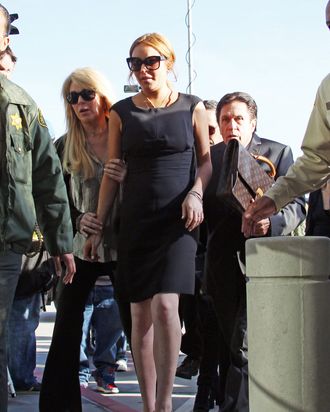 Lindsay Lohan.
Photo: KVS/PacificCoastNews.com
Lindsay Lohan flew through JFK late last night with her mom ahead of her court date in L.A. today. Uncharacteristically standoffish towards photographers, she strode grumpily through the terminal in a fascinating outfit consisting of a floppy hat, brown furry sleeves, and leather pants disguised as a hefty bag — which, now that we look closely, look quite similar to this pair owned by Beyoncé, Kanye, and Usher.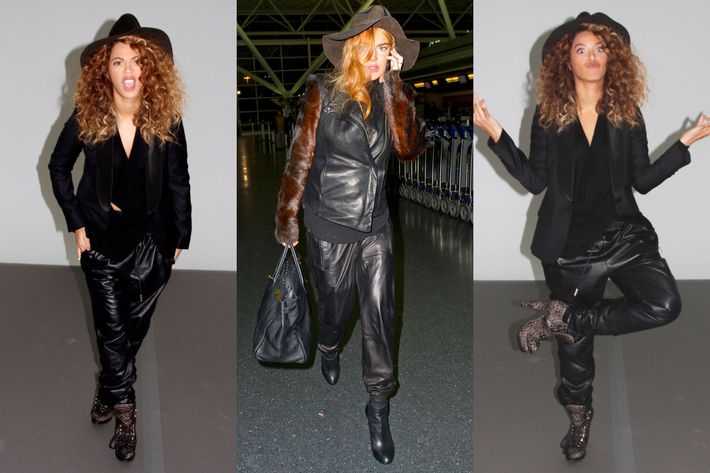 Baggy animal skins don't fare well in courtroom situations, though, and so Lindsay wore a much simpler dress to her hearing this morning.* One could even call it boring, although that's hardly a bad thing considering the context. Overall, it's relatively innocuous and conservative.
From the knees down, though, this is a disaster. Her bare legs are her natural skin color, which contrasts terrifyingly with her upper-body spray-tan. Secondly, the shoes. Normally we're all for crazy footwear, and it's totally understandable that she's nostalgic for 2009 or whenever it was the last time someone made spotted platform Mary Janes (and back when she still got free clothes in the mail). But most women wouldn't wear shoes like that even if they were trotting out to the newly reopened Marquee in their freshest Herve Leger. In Cut Kat's words, "Those shoes say guilty."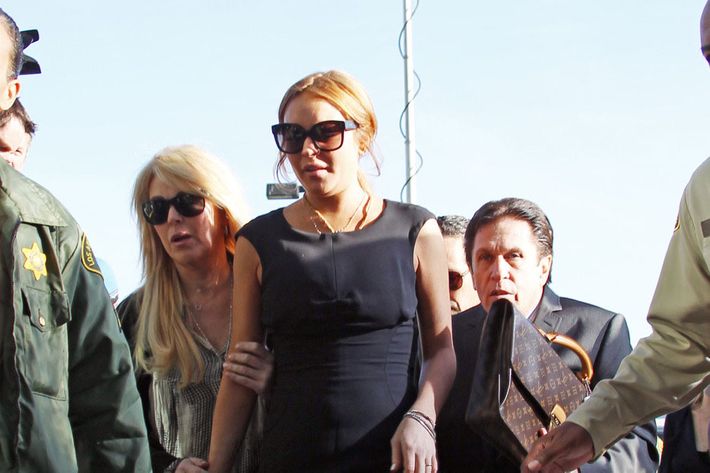 Bonne chance, sister. Your feet are in our prayers.
* Correction: the court hearing took place in L.A., not New York.