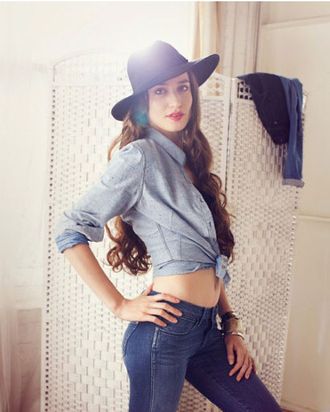 A conversation at the Jagger/Hall household* about Lizzie Jagger's new campaign for Wrangler's new Denim Spa line, which is made with "moisturizing and slimming ingredients":
Jerry Hall: Well, gals, how is work going? Y'all know that any time you feel like stopping, you can.
Georgia May: [Jumps in eagerly] GREAT. Just great. Things with Cavalli are going well, and Lola — that's Madonna's daughter obviously — still writes me e-mails, and of course the people over at Hudson jeans still love me. I'm thinking about "designing" another collection for them.
Jerry: That's great, sweetie! 
Lizzie: [Clears throat modestly, bows head.] Well. I have denim news of my own.
Georgia May: [Jaw drops] You do? 

Lizzie: Yes. I've gotten a denim campaign. [Looks pleased]
Jerry: Aw sweetie, that's just great! Let me go get some Champagne. [Bustles out]
Georgia May: [Hissing] But jeans are my thing! You can't do jeans too!
Lizzie: I've already said yes. And don't worry. They're totally different jeans, newly invented. Nothing like yours.
Georgia May: What do you mean, totally different? Like, mom jeans?
Lizzie: No, these are anti-cellulite Wranglers.
Georgia May: Ew. Cellulite.
Lizzie: They have lotion inside the fabric, so your legs get moisturized while you're wearing them. 
Georgia May: That prevents cellulite?
Lizzie: Who knows. I've never even seen cellulite.
Jerry Hall: [Returns with Champagne] What's cellulite?
Lizzie: Whatever it is, my jeans will fight it.
Jerry Hall: Good girl! [All three clink glasses] 
In all seriousness, the Denim Spa collection consists of three different finishes, each with different "benefits": "Aloe Vera" soothes sensitive skin, "Olive Extract" moisturizes skin, and "Smooth Legs" fights cellulite. The Telegraph has more information about the latter style, which is obviously the most intriguing:
Infused with algae extracts, retinol and caffeine, the [Smooth Legs] style was clinically tested by the Institut Adriant in France, where after four weeks of wearing the jeans for eight hours a day, five days a week over six weeks, 69 per cent of the panel claimed that the appearance of their thighs had improved.

The Smooth Legs style reportedly lasts for 15 days' wear (or four to six washes), after which a reload spray can be applied after each wash to continue to reap the jeans' beauty benefits. In total the jeans can retain their cosmetic effects for around 67-95 wears, according to Wrangler.
So, instead of moisturizing your legs with caffeine and retinol lotions, like everyone started doing a few years ago, you can spray it on your pants and let them do it for you. Anyway, congrats on the new job, Lizzie. 
*Fictional, probably.