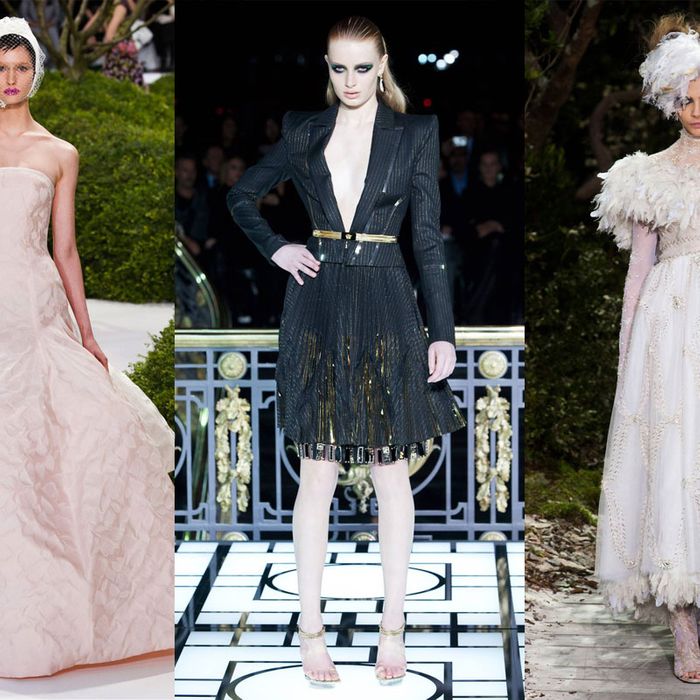 Of all the lies we tell ourselves, perhaps "Uggs can look fashionable!" is the most transparent. But this does not prevent me from tromping around the exquisite salons of Paris with just such galumphing horrors covering my feet, slipping and sliding my way from the Grand Palais to the Tuileries. (For the record: The French don't plow, they don't shovel, and it's apparently illegal to salt.) The audience at Dior, shivering and staring down sadly at what is probably a million euros' worth of ruined Louboutin booties and Rick Owens wedges, are ensconced in a heated tent as the snow swirls: Inside it's summer, with a maze of perfectly pruned topiary for the models to traverse. Among the momentary diversions from the weather are miniature flowered, beaded boleros worn with slim black pants, sheer glittering dresses with appliquéd blossoms, and an adorable veiled bonnet (three words that don't usually go together) atop an ivory extravaganza, for a bride with the poitrine to rock a strapless bodice.
Those in search of the twisted exuberance that couture can sometimes provide will be happy to see that Atelier Versace promulgates black fox harnesses, pinstriped wool separates shot through with authentic 24-karat gold, and hot-pink shorty nightdresses with trains. If you are that one-in-a-billion billionaire client craving a chartreuse mink-and-mirror-shard dress, you have found your house.
At Jean Paul Gaultier, last January's homage to the deceased Amy Winehouse has been replaced with an invitation to embark on a passage to India. The faux-Hindi lettering on the seating cards and the bright orange runway leave no doubt of this intention, though in truth Mr. Gaultier is a citizen of the world, and many of these ensembles could lay claim to any country that puts a premium on patchwork, fringe, and salmon satin cone bras, this last a JPG trope so prevalent at one time that the house sold a teddy bear thusly clad. At the end of the show, a model emerges in a vast white gown, a veritable Bollywood Scarlett O'Hara, and four little girls run out from under her skirt and tumble down the runway. It is in equal parts creepy and touching, which it turns out the designer has a gift for, as the same could be said for last winter's Winehouse event.
The air is literally charged at Iris Van Herpen, a show that is getting a lot of buzz this week. (There's always at least one.) A statue in the center of the runway is taken for stone until it moves — turns out it's a performance artist who commands bolts of lightning (well, some sort of glowing zigzag anyway) from his (or her?) hands and head. (Hey, it's a living.) The clothes are similarly high-voltage, and include a gaggle of frocks replete with black tinseling stuff that will make the brave wearer look like a very chic, goth Christmas tree.
The trees at Chanel have been painstakingly transplanted in the Grand Palais, boardwalks have been installed, there's sand on the ground, and, but for the lack of rabid deer and a Donna Summer soundtrack, you might be on Fire Island. This walk from the imaginary Pines culminates not in Cherry Grove but in a chilly amphitheater where the audience views models with punk-belle-epoque feathers in their hair, clad in winter white with a clever extended shoulder and sequined floral evening dresses at once spectacular and restrained. The show closes with two brides escorting Hudson Kroenig, the little kid Lagerfeld puts on all his runways (what if he doesn't grow up cute, will Karl still use him?) — a welcome statement on gay marriage, which remains a controversial topic, and only makes you prouder to have a president who gives a shout to Seneca Falls, Selma, and Stonewall.
Click here to see all the couture shows in our runway galleries.