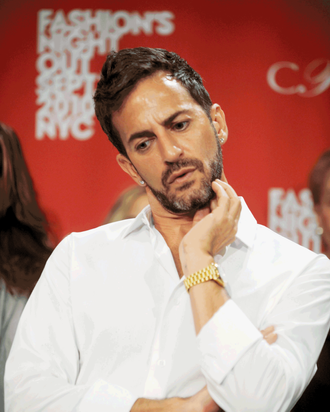 Photo: Dennis Van Tine/Corbis
On Wednesday night, Marc Jacobs sat down with Fern Mallis for a Q&A at the 92nd Street Y in New York City, where he discussed a range of topics, all in a non-bitchy manner, WWD writes. He reminisced about finding his footing at Louis Vuitton fifteen years ago, for example, saying, "I don't know if I won [everyone] over but I guess I won because none of them are there anymore. I'm not a bitch or anything like that but things happen, you know … those people who were not for me have moved to new places."
Moving on to critics, Jacobs told Mallis, "There are very few, and I don't mean this in a bitchy way, journalists who I respect. I don't think a lot of them know what they're looking at. I don't sometimes feel the criticism is valid. I'm fine with constructive criticism but I'm not so good with stupidity."
Some of his other tenderhearted statements:
• On the Dior job: "It was actually my psychiatrist who said, 'How is this going to improve the quality of your life?' and I said, 'It's not.' I mean, two more shows — and after Galliano, what he has done — when am I going to live my life?"
• "I love attention … Maybe my desire for attention is a little too out of control, but I'm very honest. I love attention."
• "I wouldn't say I'm 100 percent sober. What I'm saying is perfection is not my deal. Yeah, maybe I have had a glass of wine or a couple of whiskeys. Maybe I've smoked a joint or something like that. Or other things, but I'm mostly sober."
If non-bitchy Marc is this amusing, what's bitchy Marc like?