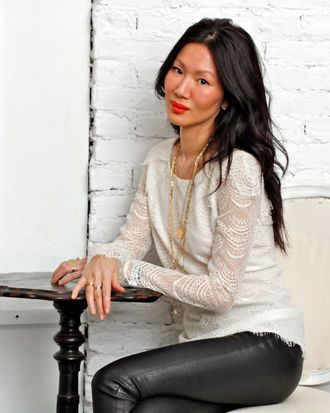 Eleven years at any fashion company is considered an eternity, but for Marissa Webb, those years at J.Crew were a study in the ins and outs of a successful brand. After working up to vice-president of womenswear design, Webb left in 2011 and debuted her eponymous collection at New York Fashion Week spring 2013. Channeling her prior retail experience, the twenty-look collection focused on tailored sportswear separates in sleek neutrals accented with pops of color and pattern. Retailers like Barneys and Steven Alan quickly embraced the easy-to-wear pieces; boutiques as far as Kuwait and Japan carried the line. (Click "view slideshow" to see the collection, which is in stores now.)
At age 4, Webb, along with her three siblings, was adopted from Korea and moved to the United States, growing up in Pennsylvania, Delaware, and New Jersey. A self-described tomboy who played in the dirt, Webb also nurtured a love for clothes and magazines. At Rutgers University, she initially studied psychology, but transferred to the Fashion Institute of Technology to study fashion illustration and design: "It made more sense — it's a concrete job. And then I decided I did not want to sit in an office all day." The Cut caught up with Webb as she prepared for her line's fall presentation. She discussed why she hasn't gone shopping in a year, her inspirations, and her fantasy wedding plans.
Why did you choose to leave J.Crew and create your own line?
Well, I've been in the industry for a very long time and it was always something that I had planned on when I first went into school at FIT. You get into a groove and you end up taking a job to learn, [but eventually] it was now or never, to move on and do my own thing. When I first entered [fashion] I was told by many people that the burnout rate was maximum ten years. I was at J.Crew for eleven so it was like, Really? Okay. I better plan for another career after ten years.
J.Crew is this huge corporate entity, and you were with them for so long — what was the best lesson you took away for your own company?
One of the biggest lessons I learned is always be a team player, always, and work your butt off. If you expect your team to work hard, you better work harder. I oversaw over 50 employees, so it's being able to manage your time and time management of others as well. It's also making sure you're staying on the fashion calendar because it does not move for any individual.
So what has been the biggest challenge now that you're out on your own?
Coming from a big corporation, you have a tremendous amount of support in every category. Here, we do everything ourselves, from building the website to doing the blog posts to doing the finance and legal documents — every single thing that a big corporation has all different categories working on, we do it. We do our own photo shoots. We do our own photo editing. So it is six people doing everything.
In terms of success, where do you see the label in five years?
I hope we have a healthy growth, but I do think one of the biggest mistakes that any new brand can make is trying to get into too many categories at once. So, for instance, we're not into accessories right now. The reason we did get into shoes is because one night I woke up before our first presentation, and I was like, Oh my gosh! What are these models going to stand in? We have no shoes! That's the only other accessory category besides apparel that we are getting into right now; it's not going gung ho into every single category possible.
What was your inspiration for fall '13?
It's menswear fused with feminine details in blouses, dresses, and silhouettes, but very modern. I was flipping through a bunch of very old books on menswear and spotting men on the street [to study] how they dress. I found myself gravitating towards the fabrics and the way it's tailored. The collection draws from the turn of the century up to the fifties.
How do you feel about finally seeing your collection in stores?
One of the most exciting aspects of launching your own collection is this week I have finally been able to purchase a Marissa Webb label. I haven't spent money this entire year because I'm invested in this company, so I haven't been shopping. And honestly, I haven't had time to go shopping either.
Back when you did shop, where did you go?
Oh goodness, I was a shopaholic. This year has really fixed me! But for a quick, one-stop shop, I would always go to Barneys and hit every single floor. I go down to Steven Alan for men's shirts: One of my go-to uniforms is oversized men's shirts and skinny pants. On the Lower East Side, Dear: Rivington + is inspiring. The owner, Moon Rhee, has an amazing curation of antique furniture upstairs and then downstairs he designs his own line. They also have an adorable dog named Dumbo, and I go to get kisses from Dumbo because I have three dogs myself.
I noticed that. Are you a total dog person?
It's a little bit of a problem because every time I see a dog that looks like it needs to be adopted, I'm like, to my fiancé, "Guillaume, can we?" And he's like, "No, Marissa. No."
When did you get engaged?
This is a little pathetic because it's been over three years now. I am not the walk-down-the-aisle type of girl, I'm more of a "let's just get together and have fun." If you're on my Pinterest board, you'll see one picture where I'm wearing my big top hat. It's been in my head for years now that I wanted a Mad Hatter party where everyone has to dress up in a cool gown and a big hat. Wouldn't that be fun? So when we have the time to plan that, we will.
What is the one thing that you never leave your apartment without?
In general it's my iPhone because I'm constantly on e-mail. I respond usually within ten minutes of receiving an e-mail, and the other thing is my bracelets.
Why your bracelets?
They have not left my wrist for about ten years and each has a sentimental value to them, so I feel naked without them. They're mostly vintage or gifts from someone special. Like, my vintage Rolex was given to me by my fiancé, and it took him a year to find the one that was made the year I was born.