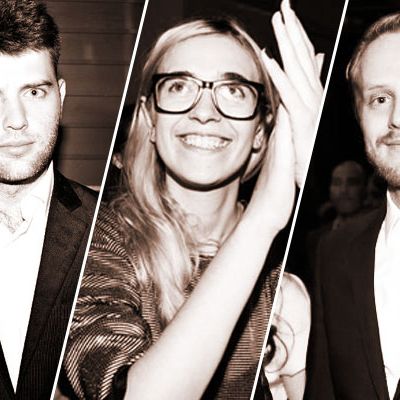 Photo: Courtesy of Look At Media
"There are no classmates on this website."
That's the mantra of Look at Me, the blog turned digital magazine company that Moscow and Saint Petersburg's young and hip are reading. It was founded in late 2005 as a personal street-style blog by former photographer Vasily Esmanov, then blossomed into a social network (that even threw parties) the following year, with the help of co-founders Katya Bazilevskaya and Alex Amyotov. "[You] sometimes don't care to connect with your classmates because they're probably totally different from you," explained Bazilevskaya. "We wanted to unite people with a different principle, people that are more culturally advanced in a way, a new generation of people."

Since its inception, the site has spawned three stand-alone web zines that are all part of the Look at Media family: the Village, a socially conscious city publication that focuses on everything from encouraging community building to café hot spots; FURFUR, a men's interest publication that began as a passion project from a team of Look at Me editors that covers "girls, motorcycles, and beards"; and their newest site, launched in October, called Hopes & Fears, a site wholly devoted to entrepreneurship. "It resonated to the feelings we had [during] our five years of entrepreneurship in Russia," said Bazilevskaya. "It's literally hopes and fears." Each site started out as a Look at Me vertical and grew large enough and popular enough to generate an offshoot site, and the media company now employs 130 tastemakers who share the latest news on everything from city news to Moscow fashion. The Cut met up with Vasily and Katya for a cup of coffee in Soho to chat about their growing style empire, Moscow street style, and their thoughts on celebrated fashion-show darlings Miroslava Duma and Ulyana Sergeenko.
What's the backstory behind Look at Me?
Vasily: We launched it as a street-fashion blog that same year everybody got crazy about this street-fashion thing. I used to work at some corporation and I decided to quit. I bought a camera and decided, "Well shit, I'm going to be a photographer." Actually, my first time I went to my first shooting, I bought [the] camera the previous day and I was reading the manual for two days. [Laughs.]

So this was for your first shoot ever as a hired photographer? What camera did you use?
Vasily: [Nods.] It was the Canon 20D. I bought it and it had no optics, so I had to borrow optics from my friend, and some lights. But I think it eventually worked fine, and I ended up being a photographer for like two years, and that's why we launched the website because I had the opportunity to earn some money [from my photos].

What made you decide to turn this website into a cultural and social destination for young adults?
Katya: The moment at Moscow at that time — I think we all had this feeling that there are a lot of people that we could like. [People who] dress in a certain way, who love the same music, but in a way, there were no places where you could find all these people together — even the parties were different. Like full of glossy, glamour women, all bling-bling.
Vasily: It was a different world back in 2005, because mostly it was fancy clubs with shitty music and overdressed girls. We were in some way misfits because we were different. 

How would you describe your day-to-day style?
Vasily: Just casual; actually my wife buys me clothes. Mix of street and classic, so I don't know. For Katya, it's the same thing. We are not really into showing off. [Laughs.] Says the guys who run a site called Look at Me. 

So what types of people catch your eye?
Katya: Most of them are in creative industries, designers, D.J.'s, sometimes people in media.

How would you describe the fashion scene in Russia?
Vasily: They have to understand everything behind it, so Russian fashion looks sometimes a little bit square, especially for guys. But I understand that the [exported] Russian fashion scene from here looks like Miroslava Duma or Ulyana Sergeenko. For us, they are just really rich girls, and that's it. They do nothing. Well, they're icons for like Tatler or Vogue, probably, but not for us.

Who are some of your fashion icons?
Vasily: Isaac Correa, who is this guy from New York who has really nice restaurants in Moscow. He's a style icon and he looks great. He has huge arms.
Katya: Gosha Rubchinsky. He made this Russian collection that's about average teenage boys in the nineties and it looks very tough, but it's very realistic. It's about these teenage boys who are children and who are tough in a way like they've been on the streets. Our heroes are people who do something, who create cultural things.
Vasily: They're not afraid of being Russian, like Mira and Ulyana. They look like average Parisian or Italian or London girls. [Laughs.]

How did you develop your own style? When did you first get interested?
Vasily: In fashion, you've got those rich girls who are not interesting because they have their daddy's money and they can buy things on Net-a-Porter. FURFUR is really dedicated to men's style. And in Russia, women dress, well, they can dress fine, but men, oh no.
Katya: It's a disaster. [Laughs.] We have this joke that men wear sandals with socks. It's because of what Vas was talking about. Men don't want to show up as people who are interested in fashion because it's not like "masculine" or perceived as that.

What do you think of American fashion?
Vasily: It's fun to see. In Moscow, hipsters are really young, like 22 to 23 years old. [In America], you see someone in their late forties dressed like hipsters, and sometimes it looks like my dad took home my clothes!

So what are some goals for this year? Do you have plans for a new site?
Katya: We're interested in a site for women because women's magazines are really stupid here. Russian media for women is for some imaginary woman who likes pink curly fonts or something like that or a career woman. But for Russian women, it's very different, it's very competitive compared to men. Russian women have to compete much more for attention, and that's why they're fully dressed, always dressed up.
Vasily: You put on high heels to throw out your garbage or you see in some convenience stores women who just look like they escaped from the catwalk. [Laughs.]