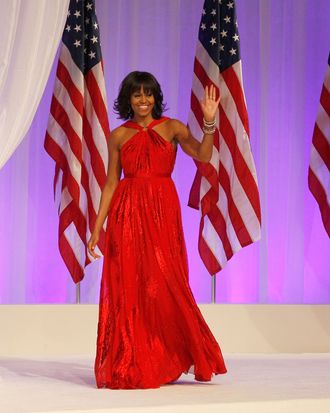 Photo: Rick Wilking/Reuters
For tonight's Commander-in-Chief Ball, Michelle Obama wore a custom ruby-colored chiffon and velvet gown by Jason Wu, Jimmy Choo shoes, and a ring by Kimberly McDonald. Wu tweeted that he was "#Inshock!!!" Her choice is a huge coup for the designer — four years ago, the First Lady picked a white, one-shoulder dress by the then-emerging talent for her husband's first Inaugural Ball, which made Wu a household name.
Kate Betts, author of Everyday Icon: Michelle Obama and the Power of Style, recently told the Cut, "If you look back at many First Ladies' second inaugural gowns they make more of a statement about the individual rather than the position and the moment." With the repeat of Wu at this evening's festivities — not to mention last week's bangs debut — Mrs. Obama seems at ease with her definition of First Lady style.