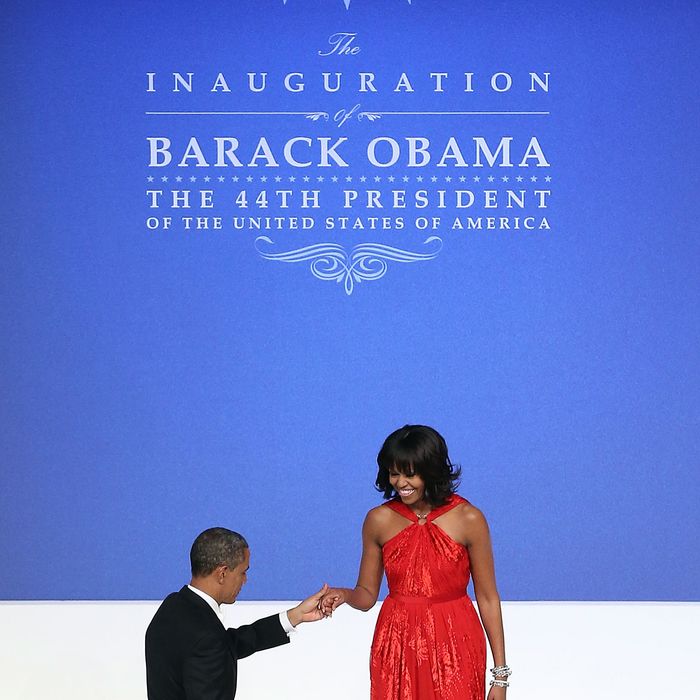 Photo: Chip Somodevilla/Getty Images
Already, the second term of Barack Obama's presidency has meant so much for Michelle Obama: She chopped her hair into some version of this season's new haircut, The Karlie, with bangs that made most bloggers breathless; she celebrated her 49th birthday at Café Milano, one of Georgetown's most chic restaurants, and spent the day changing her Twitter handle from Michelle Obama, a campaign-owned account, to FLOTUS, an almost-sassy acronym that's she taken on (or the Internet has assigned to her) more so than any other first lady in history. From yesterday's brash speech by President Obama, full of references to the gays, to his wife's meme-ready eye-roll at John Boehner, we finally had a first couple who was showing off who they really were, socially at least, unburdened by the fears that come with reelection.
But after all that, at the inaugural balls last night, when Michelle Obama showed up in a velvet-and-chiffon, pomegranate-colored, cross-strap Jason Wu gown that nipped at the waist (oh, does this woman know where her waist is), it was a decision that managed to be both smart and boring.
By choosing Jason Wu — a young American designer who she almost single-handedly catapulted to fame when she wore his white, one-shouldered custom gown at the inauguration ball four years ago — she was paying homage to all the American designers who have submitted specially created designs to her office over this long four-year guessing game. Of all those names (Thom Browne, Isabel Toledo, the occasional foray into someone foreign), Wu is the one who has benefited most from her patronage; he's a household name now, and Ms. Obama's decision to go full-circle with his gown last night seemed to say something about her methods of getting dressed and her opinions of how everyone prattles on about it: Stop guessing. I'm not here to shock. I'm just wearing what I like.
Unfortunately for creative types waiting for some insane avant-garde moment at the White House, what she prefers is pretty safe. The most exciting thing that most people have to say about last night's gown is that it was red (several onlookers thought she might wear blue. And even Cathy Horyn, the fashion critic at the New York Times, told her editor at Couture Week in Paris that she just hoped the First Lady would wear some color, a pretty low bar to set.)
And yesterday during the day, when the First Lady wore a Thom Browne coat to the inauguration, it was surprising at first to hear that the brash menswear designer — whose women's wear line is still in relative infancy — was the winner of this strange, incredibly public sartorial competition. But once you saw the coat (a beautiful thing, no less), it was almost striking in how safe the garment was, especially for a designer that's challenged proportion and fabric and construction so creatively on the runways. Here was a coat that women all across America were hoping would be mass-produced for consumers, even though the designer told us he won't, which is definitely not the way most women usually talk about Thom Browne's clothes.
It would be a truly great fashion era if, like the bangs and the fancy dinners, Michelle Obama used this second term to go buck-wild with the Céline and the Comme des Garcons and Proenza Schouler; after all, she's almost singular among women in that she can ask designers at any level to go broke designing one-of-a-kind pieces for her. (Were Jackie Kennedy alive in the Internet age, surely she would be having some more fun with that power.) But if Michelle Obama suggested one thing with her outfits yesterday, it's that she's not that interested in playing the creative-dressing game just because she can.
For the next four years, her evening gowns will probably be some version of the one we saw last night: long, flowing, banded at a high waist, and showing off her toned arms and back in a sensible way. Like we've joked about during the first term, she'll continue to repeat designers (and even individual pieces) for her public appearances. Even though she'll no longer be hamstrung by the court of sensible dressing and as worried about appealing to voters, she will still wear plenty of J.Crew. And when truly original designers like Prabal Gurung or Thom Browne get the chance to submit something to her team, they will always offer up garments that skew toward accessible, even if the rest of their lines do not. Like most women, the craziest clothing decisions Obama makes will center around color. Because, if she proved one thing yesterday, it's that she will keep wearing what she's most comfortable in. For all you waiting for some crazy what-is-she-wearing/that's so incredible moment? Move along. There's nothing to see here.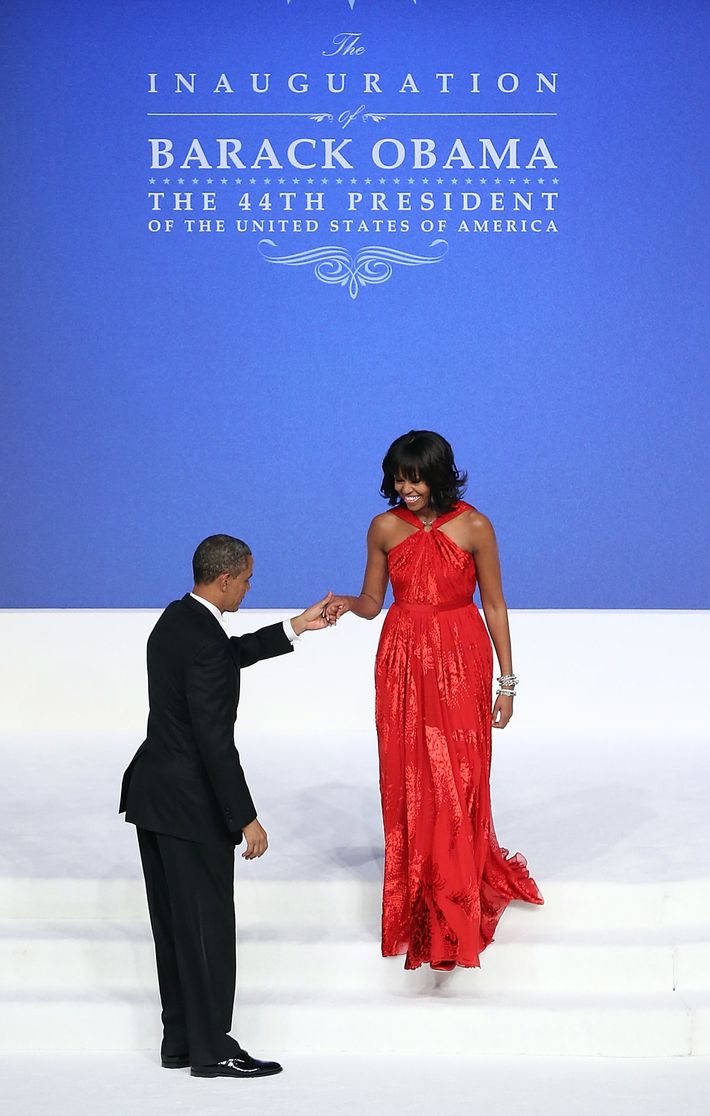 The Entrance
Barack Obama welcomed his wife in a Jason Wu velvet and chiffon gown, Jimmy Choo shoes, and a ring by Kimberly McDonald attached to the neckline.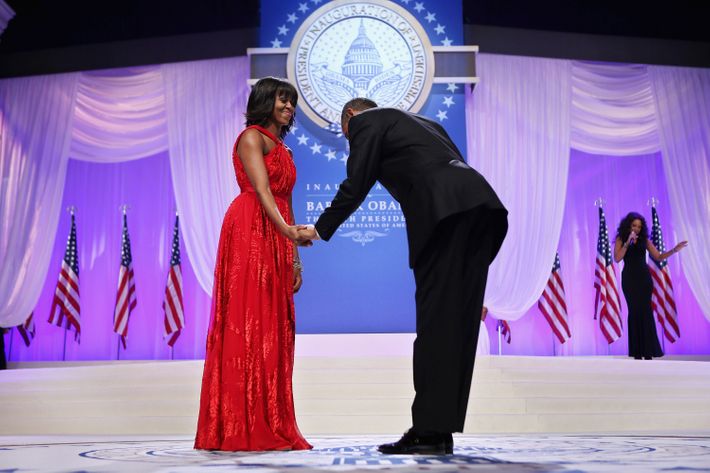 Bow to the Queen
What a gentleman. It's impossible to ignore the persimmon color, especially against the blue-and-purple set.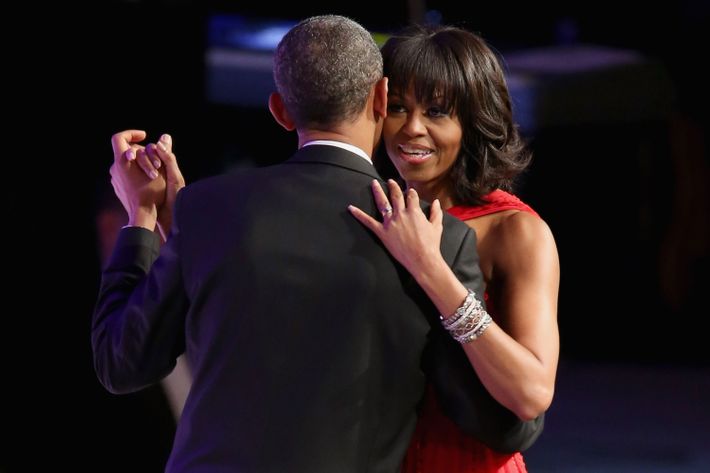 The Bangs
Still there. Looking great. Her makeup was otherwise kept to a minimum.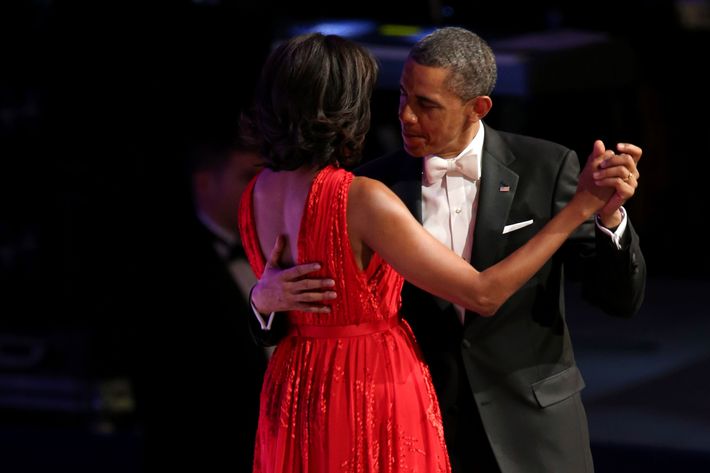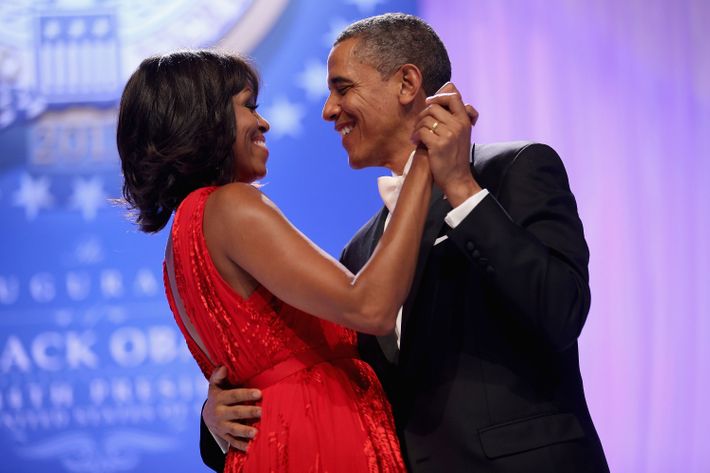 The Arms
As is her trademark, our First Lady went sleeveless. They danced to "Let's Stay Together," by Al Green, obviously.