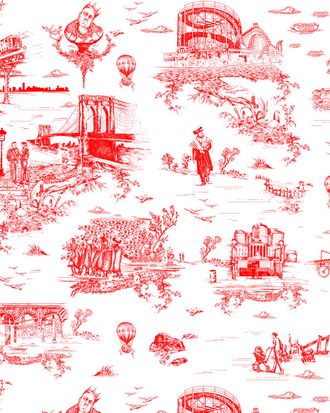 A sampling of Brooklyn Toile.
Photo: Flavorpaper.com
Beastie Boys member Mike Diamond, a.k.a. Mike D, married hip-hop with chichi interior design when he created his own French toile wallpaper for his Brooklyn brownstone. Made in collaboration with Brooklyn Toile and Revolver, the print will now grace the bathroom walls of Marquee, which reopens tonight after a two-year closure (we officially feel old). When you get past the bouncer, we suggest heading straight to the bathroom — just like the good ol' days! — to get a look at vignettes from D's own life experiences, including images of the Notorious B.I.G., Coney Island, the Brooklyn Bridge, and more.