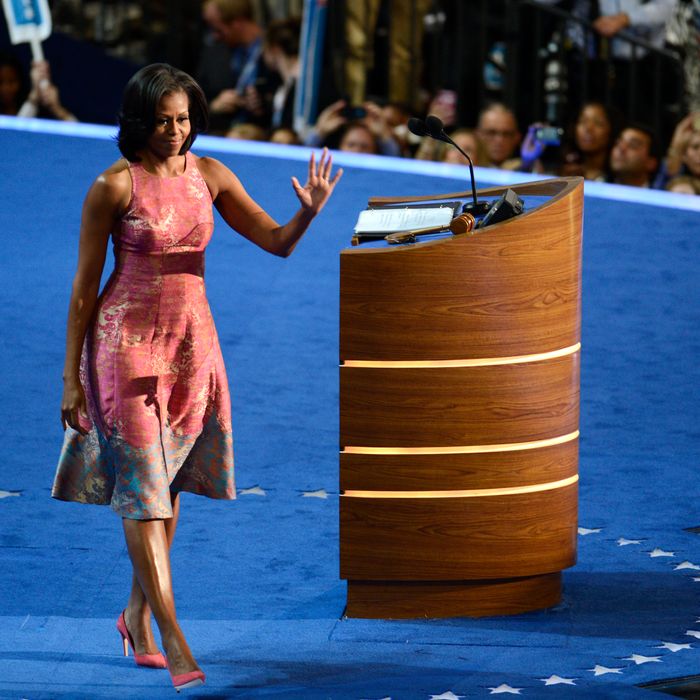 Michelle Obama's Tracy Reese DNC dress.
Photo: Adam Jennings/2012 MCT
Despite claims that Michelle Obama's wardrobe choices no longer sway consumer tastes, the fashion industry is still abuzz over what she'll wear on Inauguration Day. Today's WWD has a list of labels "allegedly in the running" for the ceremony and subsequent ball, based on samples that were "reportedly requested" by East Wing staffers. Their roundup is basically a list of Michelle's favorite designers, including longtime pets like Jason Wu, Tracy Reese, Laura Smalls, Naeem Khan, and so forth — essentially, samples that are probably requested by the White House all the time, anyway. 
Indeed, Michelle's outfits have been relatively predictable lately; her campaign wardrobe consisted almost entirely of repeats, including her election night dress. Her re-wearing habits are widely attributed to her efforts to stay in touch with the spending habits of her fellow Americans — a commonly used description for her look is "down-to-earth." They're also considered a signal that she's directing her attentions towards political initiatives, like her Let's Move campaign, instead of clothes. Perhaps she'll stay on this track throughout her husband's second term. Either way, the fashion industry's excitement over her designer choices means that her stamp of approval still holds water, even if it doesn't directly boost sales. 
This weekend, while walking around in Manhattan, I noticed an upscale women's boutique with a large cardboard photograph propped in the window of Michelle Obama in the pink brocade sheath she wore at the Democratic National Convention. "We Have Michelle Obama's Tracy Reese Dress Here — Selling Fast!" announced the sign in block letters. The store was crowded with customers. Sure, it's only anecdotal evidence, but it proves that she can still exemplify an aspirational figure — the "have-it-all" woman who revels in the undeniable pleasure of wearing a fun, stylish outfit and can make visual statements as well as intelligent ones. Perhaps Inauguration Day will bring yet another blockbuster look.
In related news: Happy birthday, Michelle! She turns 49 today.