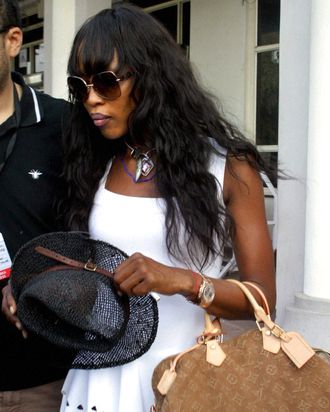 When, on Friday, the Post wrote that Campbell "was set upon by thugs" in Paris "as she tried to hail a cab" in the street, ending up "knocked over and robbed," and with a torn ligament, even the Daily Mail had its doubts about the story, starting a herculean fact-checking effort. The Mail was able to confirm that the alleged attack took place on Rue de Moussy — in fact, just outside 7 Rue de Moussy, or Alaïa's store — and that Campbell was seated in a limousine at the time.
Following a check of November crime reports in Paris, a police source said: 'On November 21, two people on a motorbike attempted to steal Ms Campbell's handbag as she sat in a vehicle on Rue de Moussy.

'She filed a complaint with police in the 4th arrondissement but she did not agree to a medical examination.'

The source said Ms Campbell was 'accompanied' during her ordeal, and had wisely stayed inside the car.
Based on the Mail's new account, it's unclear (to us, at least) how Campbell managed to injure her leg. But who doesn't want to take a Jazzy Power Chair for a spin? They sell Heel Loops for your added comfort.