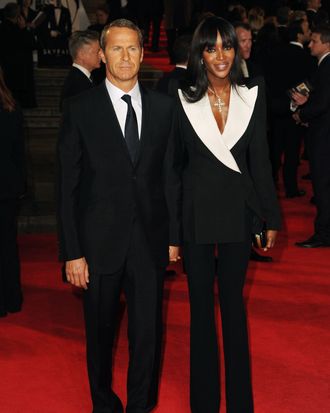 Vladislav Doronin and Naomi Campbell.
Photo: Eamonn McCormack/Getty Images
Naomi Campbell has been using a wheelchair and crutches for the past month, and now the Post knows why: She was apparently mugged on the street in Paris and tore a ligament in her leg in the process. Says the Post's source:
It was terrifying. Naomi believes the assailant had been watching her, casing her out, and waited for a moment to strike when she was alone. She was attacked in the street as she hailed a cab, and robbed … Her leg was injured as she was violently pushed to the ground. She was understandably very upset and shaken up.
Why Naomi was doing something so mundane as hailing a cab is still a mystery — even if her driver was on vacation or something, wouldn't her handlers be responsible for duties like curbside arm-lifting? — as is what exactly the mugger stole. Naomi doesn't seem like the "always carries cash" kind of lady. The Post hypothesizes that they were after her jewelry.
The incident is still under investigation, but meanwhile, Naomi's Russian billionaire boyfriend Vladislav Doronin flew her directly to Vail, Colorado, on his private jet to have her leg treated by orthopedic surgeon J. Richard Steadman, whose client list includes Alex Rodriguez. Reps for the model declined to comment, but the Post somehow got a hold of Naomi herself on the phone, who said, "I am sorry, I do not talk to press, but I am fine." The thief, if he gets caught, probably won't be.