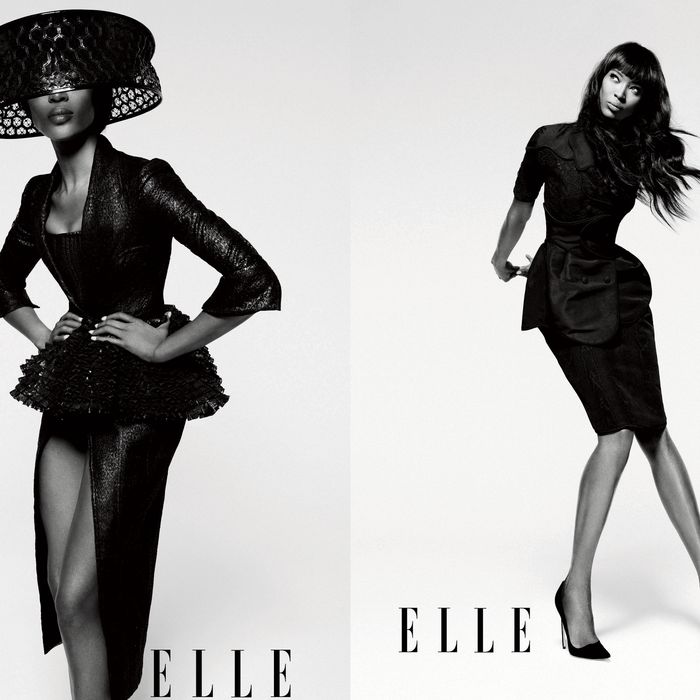 Photo: Courtesy of Hearst
In the February issue of Elle, Campbell talks about The Face, her reality competition show that premieres on Oxygen next month. Always "very shy of doing television," she agreed to participate because of the series' mentoring component, "because it was done for me! … When I first got Yves Saint Laurent Couture, I didn't know how to take off a cape. I would ask Katoucha and Dalma — the real divas of the runway — 'Can you show me?' I've never been afraid to ask for help." She also doesn't hesitate to cry during model eliminations on The Face, according to Rod Aissa, Oxygen Media's senior vice-president. What time is this thing on, again?
Campbell had kind words for ANTM chancellor Tyra Banks: "I don't watch the other reality model shows. I'll never have anything to say. If you ask me about Tyra Banks … I'm proud of her as a woman of color. She's given girls opportunity, and God bless her." And she addressed her cell-phone throwing, remarking, "I'm never gonna get away from it. It's part of my history. I was remorseful and regretful. I've served. I did that time. And I never want to be in that position again." At least we're all on the same page … of the book she likely just chucked at the computer screen.