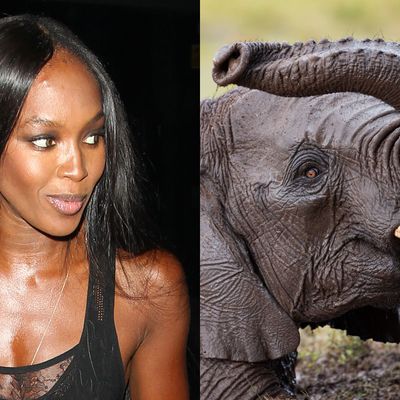 Not happening, never did.
Photo: Corbis
You may recall the Telegraph's scurrilous report that Naomi Campbell had been forced to cancel an elephant polo match set for her boyfriend Vladislav Doronin's 50th birthday party, which took place in India on November 8. The article, originally published on November 3, stated that the polo plans had been stymied by protesters and government officials, but according to Campbell's lawyer, Gideon Benaim, there were no such arrangements to begin with. "The simple truth is that there was no plan for elephant polo. Ms. Campbell did not cancel it because it was never going to happen in the first place," he told the Guardian.
Campbell filed a libel suit against the Telegraph in December, noting that the paper's editors failed to retract the false story for a day and a half after her lawyers contacted them. The paper has since apologized, and agreed to pay Campbell's legal fees and damages (which are, of course, unspecified). Today, Campbell released the following statement, via British Vogue: "There were never plans to hold an elephant polo tournament, so the allegations should not have been published … However, I am glad that the matter has been resolved and I accept the newspaper's apology." It makes sense she'd want this matter tidied up before The Face's debut on Tuesday; by then it'll be old news.