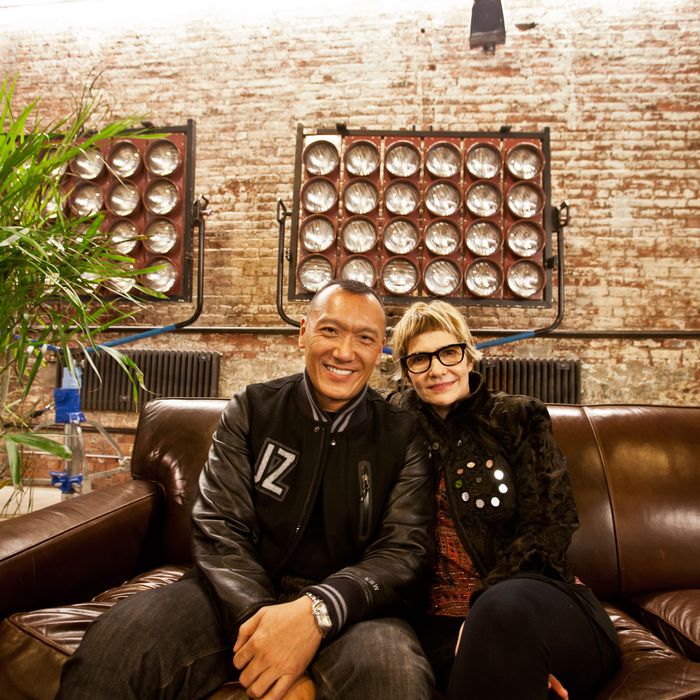 Joe Zee and Laurie Goldstein.
Photo: Spencer Mandell
Lori Goldstein's very first Elle shoot has just wrapped, but she won't stop moving. "The night before last, I was so nervous; I couldn't sleep. I haven't felt like that before a job in years!" says the veteran stylist, who became Elle's fashion editor-at-large in mid-December. She flops down on a leather couch, the tiny mirrored embellishments on her black jacket twinkling as she squirms around to give her new colleague, Elle creative director Joe Zee, one of many hugs. 
Goldstein now reports to Zee, but two decades ago it was the other way around. In the mid-nineties, Zee was Goldstein's assistant at Allure, where they both worked under the infamous editor Polly Mellen. "It was a time of young, genius designers like Helmut Lang, Martin Margiela, and Ann Demeulemeester, and when magazines weren't all about credits," recalls Goldstein. For Zee, the experience was less glamorous: "It was before cell phones, so we'd be shooting in some desert town in the middle of nowhere, and I'd have to go find quarters for the pay phone to get someone to send us a shoe," he says. "But you always got it in time!" says Goldstein, giving him another hug.
Since Allure, Goldstein has had a prolific freelance career, working for brands like Hermès, Prada, and Vera Wang on top of editorial projects for a long list of major fashion publications. She's known for creating flashy, spunky, high-octane images: She put Beyoncé in a pink bikini for the cover of V, Gwen Stefani in a huge rose-shaped hat on Harper's Bazaar, and Terry Richardson in a bow tie for a David Webb campaign. She also styled Italian Vogue's controversial "Haute Mess" spread last year. In a word, she's ballsy. "I think a lot of people in fashion are actually afraid of fashion," she says. "It's this insular industry where people are always worried about what others will think, and that's where I'm different and where Elle is different."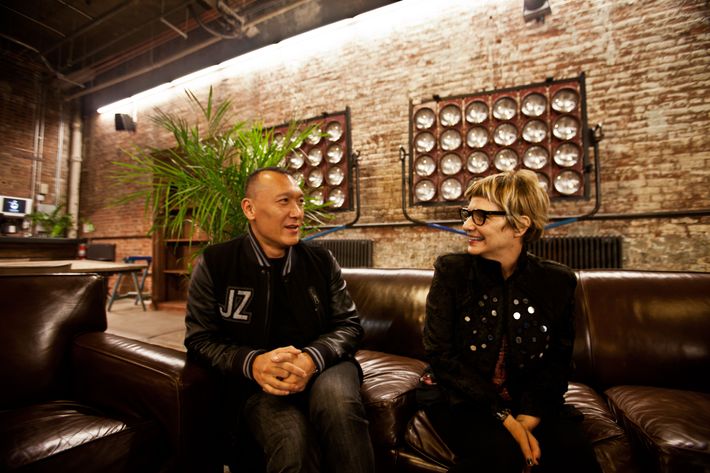 Speaking of a different Elle, the magazine has seen a lot of staff turnover in recent months. In November, the magazine lost its two top accessories editors, Kate Davidson Hudson and Stefania Allen; more recently, style director Kate Lanphear jumped ship. Goldstein, who has signed on to do four stories for Elle's biggest fashion issues in 2013 (that's March, April, September, and October), plugs some holes in the masthead.
Will Elle's fashion aesthetic change under Goldstein's leadership? "It'll be more fashion," she says excitedly. Zee adds that their editorials will be increasingly fantasy-driven and conceptual, more akin to edgy European publications than their service-y American brethren. "Is every single look that you see going to be accessible and wearable? No, but that's not the point," he says. "I would like to think that our readers are smarter than that. We're the thinking woman's fashion magazine. No one is going to rip out that page and re-create the outfit exactly as shown. Instead, the image will provide a point of reference." 

Which isn't to say that Goldstein — whose vibe is more wacky aunt than haughty elitist — will make Elle inaccessible, either. Since 2009, she has designed an affordable clothing line for QVC called LOGO, an experience that taught her a lot about mainstream tastes — which she insists aren't so different from her own. "There's no division between people in New York and the rest of America, this division that people are always talking about," she insists. "I'm kind of wild and eccentric and eclectic, but I think people everywhere have some of that in them." In addition to her work for Elle, she'll continue to freelance and work on her QVC line, and will put out her first book later in 2013. "It's about my work over the last hmmm-hmmm years," she says, laughing.
At the end of the day, Goldstein believes that fashion is all about expanding people's horizons, not delineating what they should and shouldn't wear. "Women want to feel great about themselves, and they almost need permission to do so," she says. "They'll say, 'How can I wear that?' or 'I wish I could dress like you,' and I get to say, 'You can!' I just love empowering women like that." 
Just then, model Heidi Mount emerges from the studio. She's changed out of the Catherine Deneuve–inspired clothes she wore for the shoot, which will appear in Elle's March issue, although she's still got cat-eye makeup on. She wears jeans, ankle boots, and an incredibly cool-looking black wool coat. Goldstein leaps to her feet and darts over to Mount to embrace her. "Ooh, who makes your coat?" she asks, petting the model's arm. "My friend did," says Mount, shrugging it off and holding up the label. Goldstein peers at it through her thick-rimmed glasses. "I don't know them. Will you send their name to my assistant?" she asks. Mount promises to do so.
"See, that's the real deal," says Goldstein when Mount walks out. "Look at her. She could be wearing all of the latest big labels, but instead she finds that cool coat no one recognizes. That's the woman we like — not a cookie cutter."