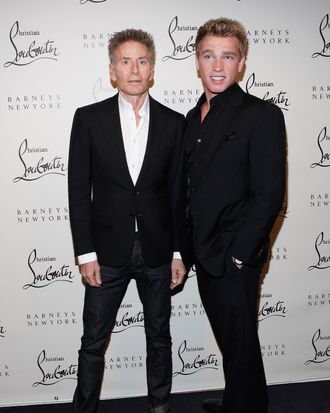 Calvin Klein and Nick Gruber.
Photo: Cindy Ord/Getty Images
When Calvin Klein and Nick Gruber broke up, Klein took back the car he'd given Gruber as a gift — a $250,000 Bentley Supersport. That was okay, though, because Gruber's new boyfriend, John Luciano, let Gruber borrow his BMW, even to take girls on dates, as he did yesterday. Gruber and his lady friend spent a romantic day at Six Flags Magic Mountain outside of L.A., but then totaled the car when he was hit by a PT Cruiser on their way home. Luciano, who seemed totally cool with the whole Gruber-courting-a-lady business, assured the Post that everyone's fine and the date went well, adding, "The thing about Nick, he has a lead foot and rocks for brains." True love!
The car crash will surely be a climactic plot point in Gruber's new reality show, which started filming this week. In related news, this event inspired us to pore over some of Nick's recent tweets, which include this treasure: "NYC taxi drivers are crazy. My driver just ran into someone else's car. Can anyone say 'Finder Binder'." Indeed we can.