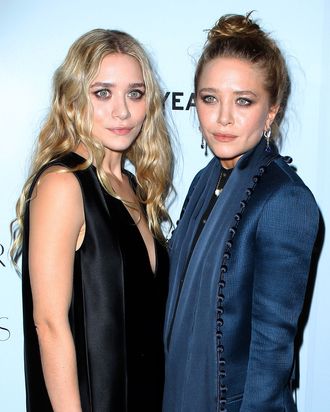 Photo: Christopher Peterson/Splash News/???? www.splashnews.com
Mary-Kate and Ashley Olsen, who designed a $39,000 backpack (much to Anderson Cooper's chagrin) for their brand The Row, have produced a line of less-expensive handbags for their other brand, Elizabeth and James, WWD writes. The first collection, to be in stores come July, comprises hobo bags, satchels, shoppers, messenger bags, backpacks, cross-body bags, clutches, pouches, and wallets — some created from "New Zealand lambskin accented with stamped lizard trim," which makes us feel like hugging a puppy. The purses are priced from $395 to $625, with the smaller items costing $125 to $395. As explained by the twins:
"We've always wanted to do handbags, but we really wanted to understand the market first and what was missing from the market and what's already existing on the market," Ashley said as her sister, listening intently, pushed aside her venti Starbucks cup.
They also plan to open a freestanding Elizabeth and James store by 2015, launch an e-commerce site next year, and release a fragrance with Sephora this spring. The latter really shouldn't be a priority given the success of their "Juicy Peach Freesia Eau De Toilette Spray."