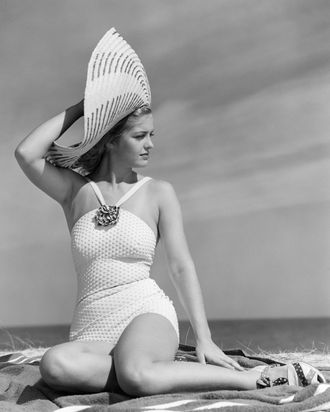 Photo: H. Armstrong Roberts/ClassicStock/Corbis
The bikini is dead; long live the one-piece. Celebrities as diverse as Rihanna, Kate Moss, Stephanie Seymour, and Beyoncé "donned more demure maillots" while on vacation in 2012, reports The New York Post, while designers like Michael Kors, Karl Lagerfeld, and Norma Kamali sent one-pieces down the runway. Cindy Hahn, the owner of swimwear store Azaleas, told the Post that ruched one-pieces that "hide flaws" are bestsellers. Everyone can drink beer at the beach again!
The professionally exposed Kim Kardashian partook of the New Modesty, tweeting this self-portrait in a Michael Kors one-piece before she was even pregnant.
Which made us wonder: could the dissemination of our beach snapshots on social media be contributing to the move to cover-up? Swimwear designer Malia Mills blamed Instagram and Pinterest for the trend, but not because beachgoers are afraid advertisers will license their bikini pics. "We know the world is a stage now more than ever before, with the individual stepping into the spotlight, unafraid to make a statement and define it as her very own," she told the Post. "The one-piece is an outfit in and of itself — a statement piece that says I dare to be different."
Or, you know, the one-piece hasn't been in since the nineties so now it looks right again. Just like everything else from that decade. Wake us up when the Burkini hits the mainstream.