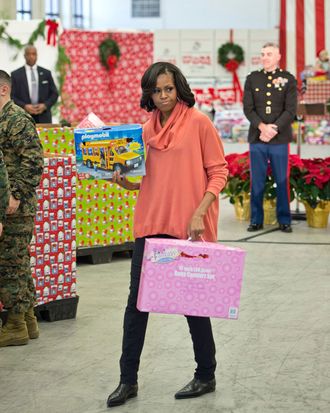 We're days away from inauguration, a night when fashion buyers and Pratt grads will pretend to care about presidential politics long enough to find out which designer First Lady Michelle Obama will anoint, Jason Wu–style, America's next great gown-maker. But, for some reason, everyone is pretending that as President Obama enters his second term, we are no longer obligated to care about what Michelle Obama wears anymore.
Today, the AP reported that Obama has "figured out a way to largely move the focus from her style to her substance." How? "[By] remaining consistently interesting and diverse … she's been able to draw attention elsewhere," says InStyle editor Ariel Foxman. "Consistency has made her look much more matter of fact." More like consistent inconsistency. Last month, the New York Times praised the first lady for the same feat. "Unlike some of her predecessors," Cathy Horyn notes, "she did not wind up designating a few favorites to create a consistent image," instead spreading the love — and the implied endorsement — across more than 50 design firms in 2010 alone. But the idea that Michelle's eclectic wardrobe would somehow encourage us to shut up about her clothes seems illogical to me. To bloggers, her mixing and matching only made it easier to obsess about her, as opposed to, say, Hillary Clinton, who wore pantsuits every day until people stopped talking about what she was wearing — and who then snapped at anyone who did.
Regardless, Horyn, like the AP, predicted that Obama will no longer be thinking about her critics or White House staffers who "once fretted about the political fallout from her designer fashion." That could mean more sartorial allegiances (All Prabal all the time!) or risk-taking (More McQueen!), which the Cut would giddily document. But it also implies that Obama's got less frivolous fish to fry. During the Obamas' first term, many wrote off Michelle's interest in fashion and her domestically inclined White House initiatives — healthy eating and exercise (vegetable garden included), military families — as part of an ongoing campaign to soften her "angry black woman" image. Those same people — many of them white, "have-it-all," liberal feminists — now seem eager for Michelle to doff her first lady drag and behave like the Princeton-educated breadwinner she is, taking on the Hillarycare-size project — immigration, perhaps? — that will launch her own political career. Horyn points out that it was Mr. Obama who rubbed elbows with well-connected fashion-industry types Anna Wintour and Sarah Jessica Parker during this round of campaign fund-raising, not the Vogue cover girl. Plus, as Jodi Kantor reminded the Observer, Michelle's own, lightweight initiatives could still use a little unladylike political hardball. Kantor said:
"There's the question with Let's Move about how aggressive and confrontational she was willing to be when it came to taking on corporate interests. With the military families initiative, is it rah-rah patriotic, or does it get into darker material? I'm curious to see how complete and thorough a conversation she wants to have with the country about the issues veterans face."
I hope to hear more (and more opinions) from the first lady this term, but it won't come at the expense of keeping tabs on her clothing, which we also hope will become bolder. Let's not forget that Michelle as a black fashion icon and a black mom-in-chief have symbolic importance, even if it's lost on the neo-second-wave chattering class. Horyn reminds us that when Obama's advisers warned her not to appear on the cover of Vogue in the middle of a recession, it was her status as a black woman, who are underrepresented on the covers of fashion magazines, that trumped the concerns about elitism. As Nation editor Melissa Harris-Perry told the Observer: "I find it kind of subversive and interesting that a black woman with a law degree from Harvard who'd been the primary breadwinner through college said, 'I'm going to do what generations of white women have done, do the Junior League kind of work.'" As if the Junior League would know what to do with this Margiela.