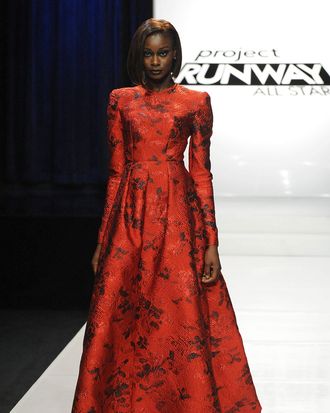 Surprise: The designers are off to Paris! Carolyn tasks them with creating a dress that's "inspired by couture" and by Paris itself. As they frantically pack their bags, I get nostalgic for the Paris trip in season three of Runway, where the designers (including Uli!) had to create "jet set" looks for themselves that weren't judged until after they'd worn them on the red-eye. That was a plot twist; those were the days.
Once the designers have landed, they head straight to the House of Valentino for a tour, and there's something weirdly touching about the bustle as everyone prepares for Paris Fashion Week. Both Runway and All Stars perpetuate the myth that fashion is one person in a room who has ideas and then sews them into reality, when in actuality, so much of fashion is much more collaborative. Even though it's just footage of a bunch of people steaming dresses, there's a refreshing spirit of camaraderie. They're putting the "we" in womenswear! The designers are also told they'll be attending the Valentino runway show the next night, and it's gratifying to see how legitimately thrilled and awed by the opportunity they are. "I'm like a straight guy at a baseball game!" Joshua exclaims.
After a sunset cruise down the Seine and a few hours' sleep, the designers head to the Eiffel Tower to sketch for a few minutes. Joshua talks about wanting to work "in color and in black and white, and just mend the two together," while Anthony Ryan doesn't have much planned for his look yet beyond "long and sheer." After touring the House of Valentino, Emilio definitely wants to do something red, which seems risky in general, and even riskier considering his struggle with primary colors last week. Uli's plan is to make an Uli dress, but with a train.
Then it's off to Janssens and Janssens to buy fabric; the designers have been given a 3,000 Euro budget, which isn't an unreasonable amount of money for couture-quality fabric in general. It is, however, an unreasonable amount of money for couture-quality fabric that will be used by designers on reality television to make clothing of questionable quality. That's not an insult to these designers' talent — it's simply not possible to make a couture-caliber gown in ten hours.
Immediately after the designers attend the Valentino show, they're sent back to New York with their fabric to complete the challenge. Everyone is bleary-eyed from the plane but determined to do well. Joanna shows up for critiques and says she's eager to hear how the Paris trip inspired the designers. She immediately sees the Valentino red in Emilio's design and is encouraged by his plan to use applique to create a hand-painted effect, so long as it doesn't take away from the fabric. Joanna worries a bit about Uli's look, which she calls "gladiator alligator meets Sicilian widow." Why isn't there a television program where Joanna and Tim Gunn just stand in a room and describe things to each other? Joanna tells Joshua his fabric doesn't "shriek couture" and that she can't quite see where he's going yet. Anthony Ryan says he's "about to pull a magic trick," so he doesn't have much to show Joanna. "Pray for me," he implores.
Finally, it's off to the runway! Cynthia Rowley joins the judges' panel this week, and Carolyn introduces her as "a friend of All Stars," which causes me to retroactively categorize all other guest judges as enemies of All Stars. Anthony Ryan takes the win yet again (he's now won five out of this season's eleven challenges) and Emilio's safe. Uli and Joshua are the bottom two and are immediately sent into a head-to-head elimination round, in which they'll have one hour, right there on the runway, to "reinvent" their looks. It is totally bonkers and ends in a written vote and I am in full support of it. Joshua, however, is probably not, as he's the one who's sent home. Cynthia congratulates Uli for her "giant fuck you to all of us" — the judges all criticized the lining, and Uli's reinvented look is made entirely out of lining. Well played, Uli.
And we're down to the final three! Next week's finale will feature Anthony Ryan, Uli, and Emilio creating and showing capsule collections, but honestly: Does anyone other than Anthony Ryan stand a chance? I'm guessing he'll win, but I'm rooting for Uli.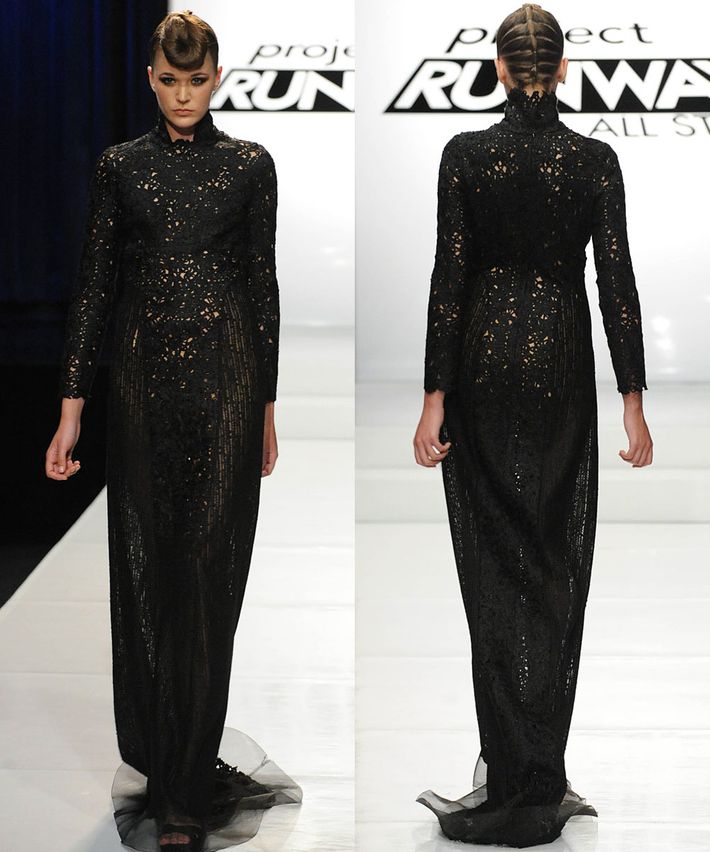 Anthony Ryan Auld — Winner
Anthony Ryan was inspired by how simple the looks in the Valentino show were and how focused they were on highlighting women's forms. Georgina told him the dress was "divine" and that she couldn't see where the lining ended and began; he explained there was no lining, and that's really what puts this dress above the others. Isaac called the silhouette "precious" and sexy in a new way and Cynthia loved the negative space created by the lace. Carolyn thought the dress "needed to breathe a little more," which just sounds like something people who don't like high necks would say (I would know). Truly, though, does this leave any doubt at all as to who'll win the season?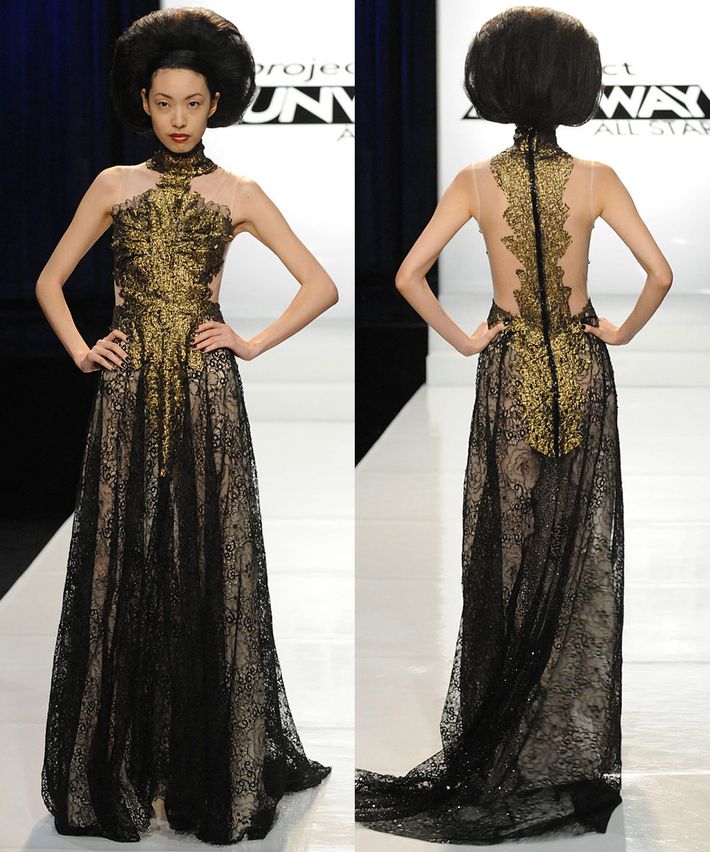 Uli Herzner — Bottom Two
Uli wanted to create a "dreamlike" fabric by mixing the gold fabric, lace, and beading. Cynthia thought it was very interesting and a great mix of textures, but she didn't love the nude lining. Georgina agreed, and suggested that a lace short might have been a good solution. Carolyn called the back of the dress "a blob," although it wasn't clear what she meant by that. Isaac thought the dress was great and looked expensive, but didn't think it looked like couture. He thought it was great as a "really expensive ready-to-wear" dress. Uli herself said before the runway that she wished she'd had black fabric to line with; if she had, most of these problems would be solved.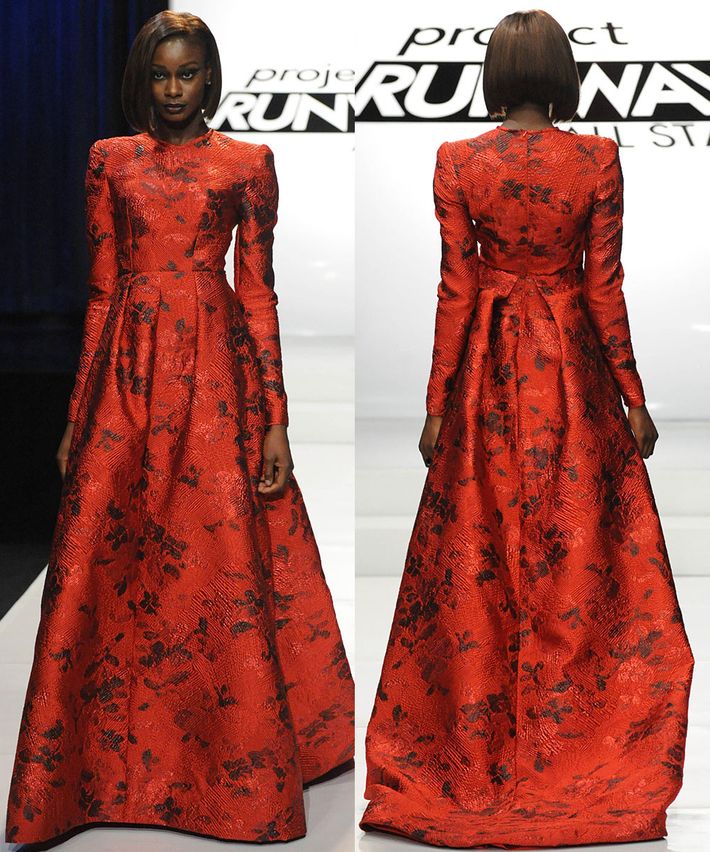 Emilio Sosa — Top Two
Emilio talked about being impressed by the fabric; even though it looks like brocade, it's light to the touch. Isaac immediately sprung out of his chair to touch it, and Cynthia quickly followed suit. Isaac loved the broad shoulder, long sleeves, and high waist, but encouraged Emilio to consider making it shorter. Georgina complimented his execution and the elegance of the look. Cynthia said that it was beautiful in its simplicity, and Carolyn loved the darting and pleating. The judges later agreed that it was simply "missing something" and that too much of its huge impact on the runway might have been due to the fabric itself, not Emilio's design.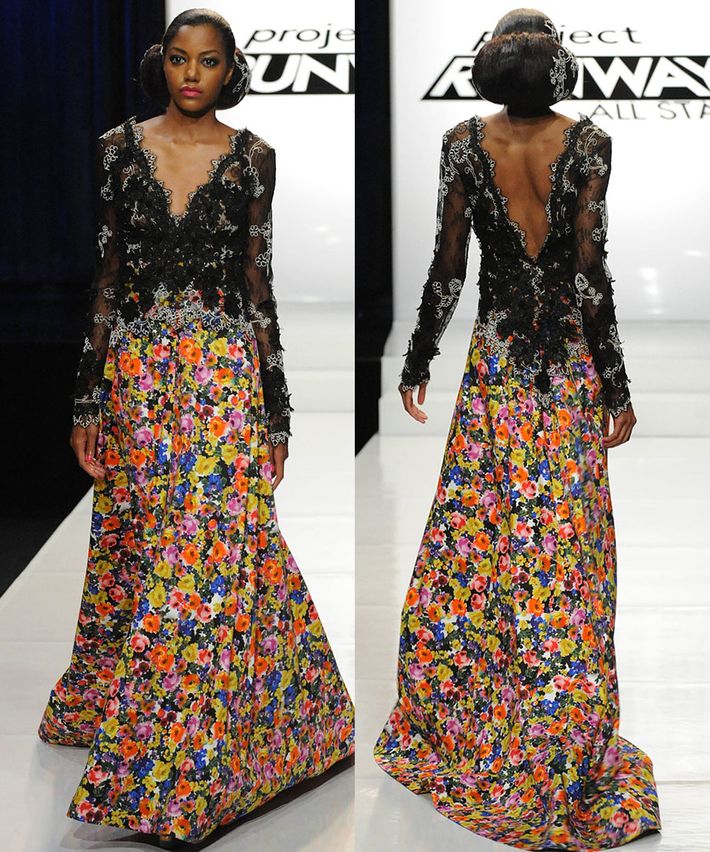 Joshua McKinley — Eliminated
Joshua wanted to create a look that clashed, and he did, just … not in the way he'd hoped. Isaac kindly said that couture is about experimentation, and that some experiments are more successful than others. He liked the lace in the dress, but didn't like the floral print and the lace together. Georgina thought the scale of the print was a bit off, and Cynthia thought it looked a little ill-fitting, particularly in the shoulders. Carolyn complimented the detailing in the back and said the combination was "brave," but thought the volume of the skirt was off.