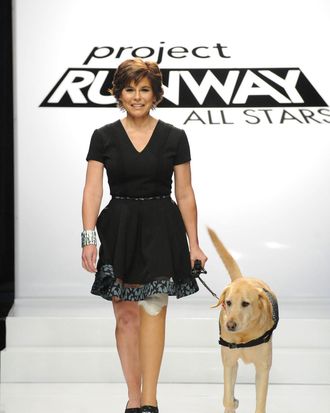 Before we dive into this week's episode, a brief word of praise for guest judge Katie Holmes, because you'd never know the episode was filmed a few days after she'd filed for divorce. Class act.
The designers head to the U.S.S. Intrepid, where Carolyn introduces them to this week's clients: four U.S. Military veterans, and one service dog named Isaac. I immediately begin brainstorming ideas for a spinoff series starring the service dog and Mood's in-store dog, Swatch. The designers are tasked with creating an outfit for an upcoming, unspecified event, which the veterans (who've each been pre-assigned to a designer, sparing them the indignity of a schoolyard-style pick) will model.
Joshua immediately hooks into the challenge; his brother is in the Army, and his client (Captain Leslie Smith) has a particularly moving story: She had a leg amputated after contracting a nearly fatal infection in Bosnia. One of her first questions post-surgery was, "Am I going to be able to wear high heels?" She asks for a girly dress. Anthony Ryan's client (Officer Donna Barrios) is a communications specialist in the Air Force, and she specifically wants him to design a dress for her 40th birthday. Still, he asks good questions and they seem to hit it off. Emilio's client (Petty Officer First Class Lisa Dalhouse) is a reservist and a jet engine mechanic; she asks for a bachelorette party dress, and they settle on something yellow, sparkly, and short. And Uli, who loves everyone, is immediately enamored with her client (Corporal Jessica Lord), a former Marine who says she'd love a dress just like the one Uli's wearing.
After the designers have swept through Mood, everyone gets down to business. Joshua has a particularly challenging task: hand-dyeing several yards of black and white leopard print cotton green. It's a bold move, but if something goes wrong, the only fabric he purchased will be destroyed. Joanna comes by for critiques and tells the designers that she's going to be extra vigorous, so that the clothes live up to "the honor of dressing these women." She wonders whether Anthony Ryan's client might like a one-shoulder dress instead of his planned strapless, and then says, "You've got to give her a rocking night. The night of her dreams." Cool, no pressure! Joanna tells Uli her look seems to be coming along nicely, then asks, "Is there anything you're concerned about?" "Always," Uli replies. After seeing what Emilio has in progress, Joanna skeptically asks him to convince her that his look could work. She's slightly appeased when he says it's a bachelorette party. Joanna tells Joshua he seems more inspired this time around. That's true, and it's nice to see after a long series of demoralizing challenges for him.
The morning of the runway show is even more chaotic than normal, due to some particularly discouraging client fittings the evening before. Emilio has to remake his dress, and Anthony Ryan is still struggling to balance his own idea of "flattering" against his client's. Once the show is underway, it's clear that they both struggled: Their looks are definitely the weaker two. Uli's typical-Uli dress (seriously, she's just referring to them as "Uli dresses" at this point) looks great, if a little sedate, but it's Joshua's client, Leslie, who steals the show. She looks amazing, and when Carmen Marc Valvo (this week's second guest judge) asks if it was intentional for the dress to show her prosthetic, she said absolutely, because she takes great pride in her survival story. It's a well-deserved win for Joshua.
Luckily for Anthony Ryan and Emilio, there's no elimination this week! I'm sure this was a pre-planned "twist," but given how incredibly snippy Isaac got whenever any of the other judges slightly criticized Anthony Ryan's work, it's hard not to see it as more Anthony Ryan favoritism. Again, I'm not saying his work isn't worth favor (although this week was a pretty colossal misstep), but the judges could at least make an effort to make the favoritism a bit less blatant.
Next week, the final four are off to Paris!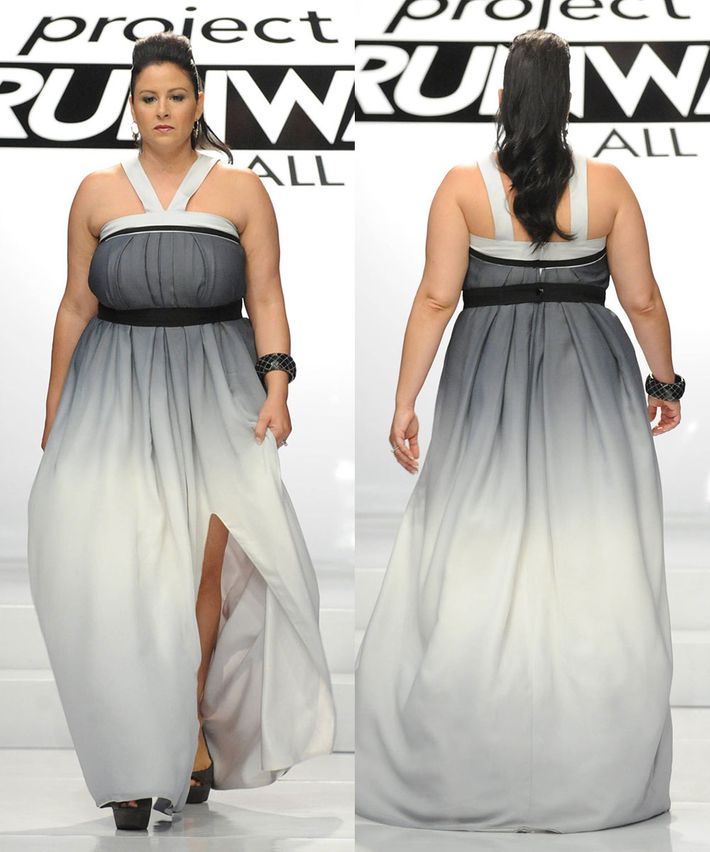 Anthony Ryan Auld – Bottom Two
Anthony Ryan's client had asked for something more conservative, as she'd wanted to cover up some recent weight gain. Carolyn said she'd love to see her celebrate her curves and pointed out that the bust area was particularly unflattering. Georgina pointed out that there are ways to be conservative without completely concealing everything. She thought the straight across bust probably wasn't the best look on the model. Katie suggested a braided or beaded or otherwise fancy piece. And Isaac called this "young and fresh," which just doesn't sound right.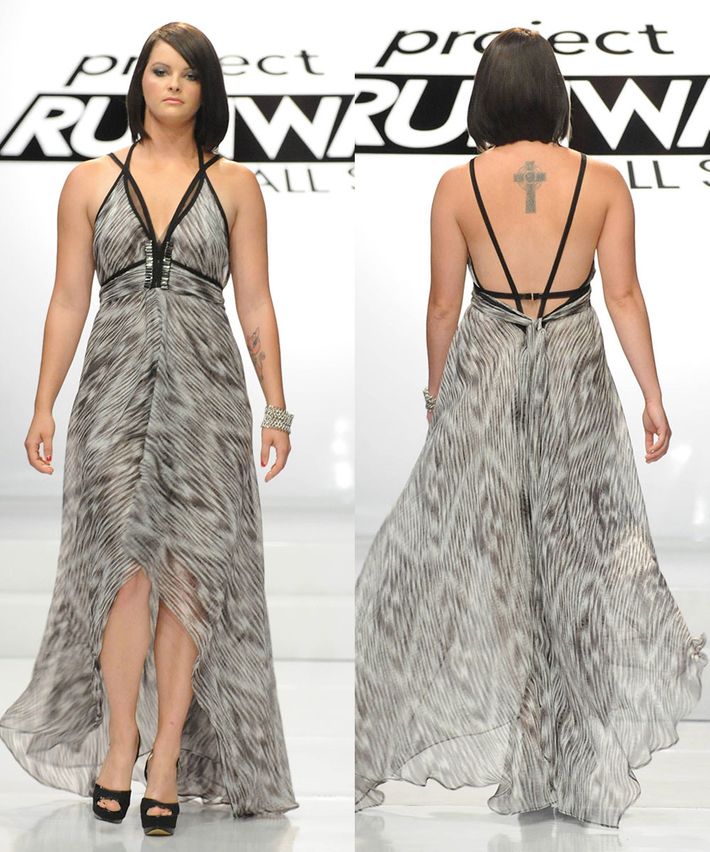 Uli Herzner – Top Two
Carolyn loved the back, and the sash-like knot that allows the wearer an adjustable level of support. Georgina liked the high-low hemline, which she thought would be perfect for a wedding and for dancing. Isaac loved the shadow effect around the neckline, but wished the embellishment wasn't on the dress. Katie agreed, since the embellishment seemed a bit heavy for the fabric, and suggested maybe feathers instead. Carmen loved the fit of the bust and the double straps.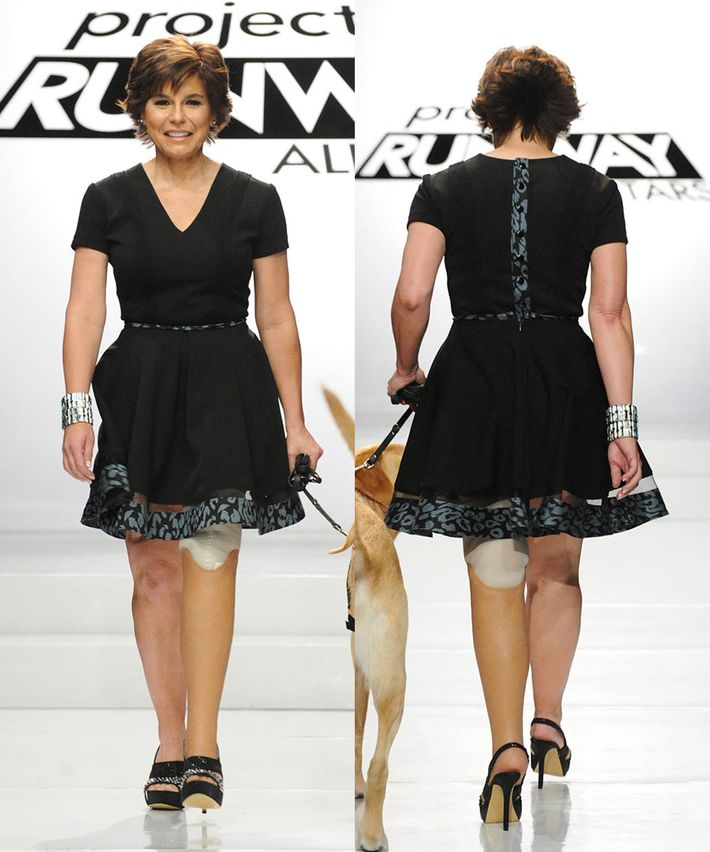 Joshua McKinley – Winner
Katie called this a beautiful dress and said that it seemed very comfortable on the client. Carmen praised the decision to feature the prosthetic. Carolyn thought that both the silhouette and the neckline were flattering, and noted that Joshua's client was beaming as she war it, and that's true – all four veterans seemed reasonably happy with their designs, but Joshua's most of all. Georgina loved the way the animal print was broken up, but thought the dress would've looked better as a more fitted piece. And Isaac's main criticism was that Isaac the Dog was not dressed glamorously enough. Obviously.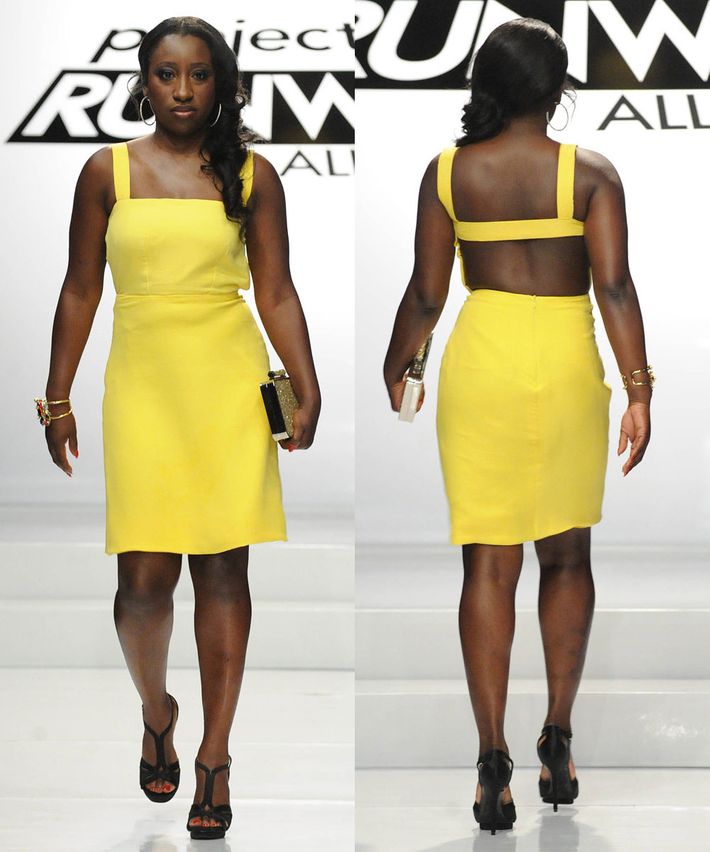 Emilio Sosa – Bottom Two
Katie loved the color and thought the dress was a lot of fun, particularly for a bachelorette party. Georgina asked whether Emilio had used two different fabrics; when he told her he'd done some fusing to give the look more structure, she said it made parts of the dress look like "mistakes." Isaac told Emilio to be more obsessive about details, particularly fit. Carmen liked the open back and built-in bra, but thought the cut of the straps was strange. Katie summed it up best when she said the dress had "a lot of beginnings" but didn't reach its potential.