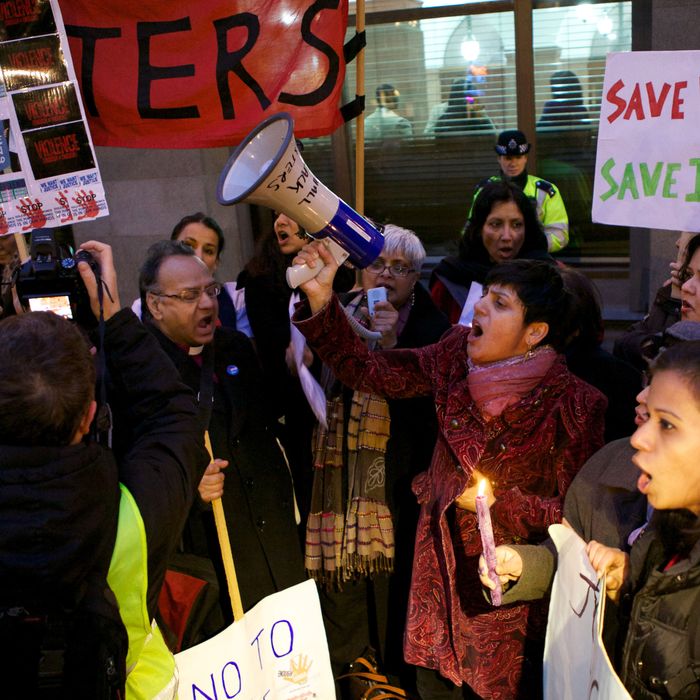 Photo: George Henton/Corbis
The lawyer representing three of the five non-minors accused of gang-raping and beating a 23-year-old student in New Delhi has said that his clients will plead not guilty, according to news reports, because the attack was the fault of the victim's male companion who "betrayed" her, and the victim. Lawyer Manohar Lal Sharma has never heard of a "respected lady" being raped in India, he told Bloomberg. Unfortunately, he's not exactly alone in his beliefs.
At the same time as the case has energized activists seeking to reform rape and sexual assault laws in India, the country's political and spiritual leaders continue to offer outrageous explanations for the brutal rape and backwards recommendations for how to prevent future attacks. Ban-women-from-having-cell-phones backwards. In the fall, the Cut got a little weary keeping tabs on all the sexist, outdated, and scientifically inaccurate things male politicians in America had to say about rape, reproduction, and abortion. So while we don't envy Reuters' Shilpa Jamkhandikar, we're glad she's doing the important, depressing work of documenting how far many in India's establishment have to come.
Here's what Jamkhandikar says political leaders and holy men are blaming for rape in India: women not wearing overcoats, women riding the bus, women using mobile phones, women wearing skirts, women going out with men who are not relatives, co-educational schools, moral character (the victim's), being out late (even accompanied), fast food ("Chow mein leads to hormonal imbalance evoking an urge to indulge in such acts"), the poison of western culture, and the stars being in adverse positions. "We have no answer to this," Chhattisgarh home minister Nanki Ram Kanwar said."This, only an astrologer can predict."
In case you missed it, here's the Wall Street Journal's profile of the victim.