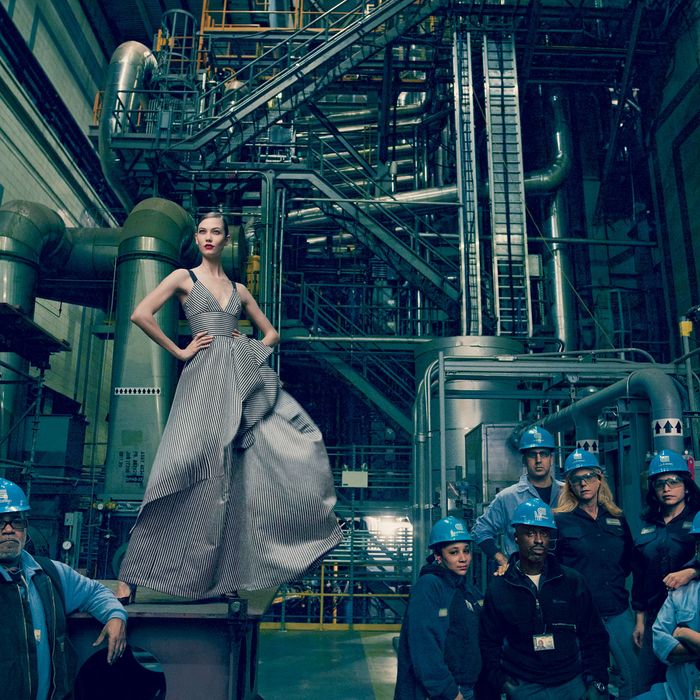 Photo: Annie Leibovitz/Vogue
In the latest Vogue, an already-infamous spread called "Storm Troupers" makes a sincere (but incredibly tone-deaf) attempt to "celebrate" the unsung heroes of Hurricane Sandy. And while the images of fashion's top models Karlie Kloss, Joan Smalls, Chanel Iman, Arizona Muse, Liu Wen, and Kasia Struss strutting around New York's still-beleaguered neighborhoods gazing serenely into the distance, wearing floor-length gowns alongside crowds of uniform-clad workers (and babies) triggered reactions from confusion to outrage, it all trickled down to one unanimous decision: Vogue, the international beacon of style, momentarily acted without class.
This Annie Liebovitz–shot editorial was hardly the magazine's first brush with tastelessness. Over the years, we've seen Wintour publish, defend, and then delete a fawning profile on Syria's first lady, and watched Vogue Italia's daring duo, Steven Meisel and Franca Sozzani, unabashedly expand their portfolio of questionable editorials. Below, a look at the international editions of Vogue's most offensive takes on news, culture, or moments in the Zeitgeist they're attempting to explain with the magic of fashion.
1. Vogue Italia's "Make Love Not War"
In a September 2007 editorial inspired by the Iraq War, Raquel Zimmerman and Agyness Deyn were among many female models photographed in the center of a very sexually charged war zone straddling shirtless soldiers, cavorting around in mud, or exposing their breasts while wearing gowns by Roberto Cavalli and Dior.

The Backlash: The magazine was accused of both sexualizing and glamorizing the Iraq War. The Guardian's Emine Samour blasted the photos as "the most nauseatingly tasteless fashion pictures ever." 

The Response: None.
2. Vogue Italia's "Haute Mess"
Steven Meisel and Vogue Italia strike again. In its March 2012 issue, the magazine raised some serious red flags with an editorial featuring well-known models like Joan Smalls, Jessica Stam, Karen Elson, Coco Rocha, and more — sprawled in a Brooklyn diner eating cheese curls and surrounded by fast-food containers while wearing loud Louis Vuitton and cheetah-print eye makeup; comically drawn-on eyebrows; bedazzled nail art on very long toenails; teardrop tattoos; gold tooth caps; and neon-colored weaves with Skittles and Twix candy wrappers incorporated into their headpieces.

The Backlash: Bloggers felt that "Haute Mess" was poking fun at the "ghetto fabulous" culture of African-American women. And as seen in photos titled "Ghetto-Fabulous Edible Hairdos," Meisel directly copied select hairdos from real-life African-American women. Julee Wilson from the Huffington Post called the editorial "Hood Couture" and Vibe wrote, "Let's keep it real for a minute: How many white girls [or any other ethnic backgrounds for that matter] do you know that dress or look like this? Exactly."

The Response: Steven Meisel claimed that his inspiration for the shoot was "messy drag queens," and editor-in-chief Franca Sozzani responded to the backlash and told the Cut, "A racist image, I really do not understand."
3. Vogue Italia's "Slave earrings"
In an online "Shop the Trend" piece focusing on the oversize hoop earrings featured in Dimitri's spring/summer 2011 runway show, the website decided to leave behind common sense when it named the slideshow "Slave Earrings" and featured gorgeous options for large circular earrings, from hoops made entirely from gold to those adorned with sparkly purple gemstones. The writer, Anna Bassi, started off the slideshow with an equally offensive introduction, stating,"The most classic models are the slave and creole styles in gold hoops. If the name brings to the mind the decorative traditions of the women of colour who were brought to the southern United States during the slave trade, the latest interpretation is pure freedom. Colored stones, symbolic pendants and multiple spheres. And the evolution goes on."

The Backlash: Charges were of perpetuating racism and attempting to glamorize slavery. According to the Telegraph, angry readers launched a Twitter campaign against Italian Vogue, demanding the "disgraceful" post to be taken down.

The Response: The Guardian wrote that editor-in-chief Franca Sozzani issued an apology, claiming that the title mishap was the result of "a really bad translation from Italian into English." The site then changed the title of the piece to the slightly less offensive "Ethnic Earrings." The slideshow introduction was then deleted, with the message, "WE'VE DECIDED TO REMOVE THE ARTICLE FROM THE SITE TO PROVE OUR GOOD FAITH AND TO SHOW IT WASN'T OUR INTENTION TO INSULT ANYONE."
4. Vogue Germany's "Signs of the Time"
This October 2012 editorial literally took a cue from Zoolander's "Derelicte" collection, where photographer Sebastian Kim shot model Magdalena Langrova trying to make "haggard-glam" or "haute homeless" chic. She's seen sitting on sidewalks, dangling forlornly from lamp posts, and gazing into high-end boutiques while clutching giant bags and drowning in layers of baggy coats, plastic ponchos, animal prints, and hats of all sizes from Louis Vuitton, Rick Owens, Guy Laroche, Comme des Garçons, Robert Cavalli, Marc Jacobs, Derek Lam, and Chanel.

The Backlash: Is Vogue glamorizing the homeless?

The Response: None.
5. Vogue Japan's "Call Her Diva"
In an October 2011 editorial for Vogue Japan, model Crystal Renn's eyes were taped back to give them a more almond shape, or as bloggers noted, to make her look more "Asian." In a behind-the-scenes video of the shoot, beauty tape is clearly visible around Renn's temples, pulling the skin up in a tighter formation. In the editorial, Renn is flaunting an impressive cat eye.

The Backlash: Vogue was promoting racial stereotypes. Jezebel called the editorial "offensive" and gave an option for an easier, less sticky solution: "Booking an Asian model," like Liu Wen or Fei Fei Sun. Refinery 29's Connie Wang asked, "Is eye-taping just about experimenting with form and shape with your body (as opposed to your clothes — which is what fashion is all about), or is there something more icky going on here? Is it better because it's in an Asian magazine?"

The Response: In an interview with Crystal Renn, Jezebel writer Jenna Sauers asked Renn if the use of the tape was to make her look more Asian. Renn responded, "Oh, absolutely not. We didn't even think about that on the shoot. I'm the one who suggested it, and it didn't even cross my mind. It's something that I regularly ask makeup artists, you know, if it will bring something more to the character. Offer a different face." Renn admitted to using tape on her eyes for a Mexican Vogue cover and a plastic surgery shoot for French Vogue. She added, "And I think part of the reason this controversy happened was because it was for Japanese Vogue. And people saw the taping of the eyes as resembling Japanese women."
6. Vogue Italia's "Water and Oil"
Following the devastating BP oil spill in the Gulf of Mexico, Vogue Italia decided to use environmental tragedy to inspire a fashion editorial (shot again by Meisel), showing model Kristen McMenamy wearing feather dresses strewn out on a bed of rocks covered in oil, like a dying bird. Another photo was a stand-alone of a black feathered glove dripping in oil.

The Backlash:  The publication's choice to pair such a serious ecological and social disaster with luxurious clothing was seen as "disturbing," "tasteless," and simply "wasteful." Refinery 29 wrote, "Creating beauty and glamour out of tragedy seems quite fucked up to us, not to mention wasteful and hypocritical, seeing as thousands of dollars of luxury clothing was flown in, and then subsequently ruined for the shoot." Fast Co.'s Tyler Gray called the editorial "tasteless" and responded with a snarky slideshow called "Oil is the New Black" with an intro that echoed what everybody was thinking: "Too soon."
The Response: In an interview about the "Haute Couture" shoot, Franca Sozzani told the Cut, "Controversial was the one we did in 2010 with Kristen McMenamy like a bird on the beach — that was very controversial. It was made to talk about nature and how it could suffer from what men do. We made it in a very ecological way, but they took it, like, why did you do something against BP? … It's not that I want it to be controversial all the time, it's happened. … You can just take pictures like in a catalog so you will never be controversial, but that's not my choice of life."
7. French Vogue Puts Lara Stone in Blackface
In the October 2009 issue of French Vogue called "Supermodels," the publication caked Dutch model Lara Stone's entire body in dark brown makeup and photographed her in blackface, looking sullen and wearing intricate headwear and feathered plumage in every shot. In Steven Klein's editorial, photos of non-made-up Stone were jarringly juxtaposed next to the one another, further emphasizing the issue of black and white. The accompanying text gave no hint as to why the model was painted a darker skin tone, choosing instead to focus on Stone's curves and gappy teeth.
The Backlash: The Guardian quoted Dominique Sopo, the president of French organization SOS Racisme, calling it "tactless," and Jezebel wrote, "Painting white people black for the entertainment of other white people is offensive in ways that stand entirely apart from cultural context. France and Australia may not have the United States' particular history of minstrel shows as a form of popular entertainment going back to the 19th century, but something about the act of portraying a white woman as black ought to sound an alarm, somewhere."
The Response: According to the Daily Mail, "French Vogue said it was unaware it had caused offense, but said it could not give any further comment."
8. American Vogue's "Dream Team"
Vogue's April 2008 cover, shot by Annie Leibovitz, shows "King James" mid-roar as he forcefully dribbled a basketball, while a smiling, gown-wearing Gisele clings to his other arm.
The Backlash: Vogue was accused of being racially insensitive. Jezebel called the cover "LeBron Kong," as the cover compared the all-star athlete to King Kong, a savage ape. They wrote, "the athlete seems to be embodying ugly stereotypes about black men: The wild, savage, white-woman-obsessed beast." ESPN's Jemele Hill called it "distasteful." 
The Response: None.
9. Vogue India's Baby With Fendi Bib
In its August 2008 issue, Vogue India shot an editorial of luxe designer goods and accessories worn by impoverished people on the street. The most notable image: A poor child, carried by a toothless woman, wearing a $100 Fendi bib. Another photo included a barefooted man carrying a $200 Burberry umbrella.
The Backlash: The blatant juxtaposition of poverty and wealth had critics calling the spread vulgar, tacky, and distasteful. Kanika Gahlaut, a columnist for the India-based daily newspaper Mail Today, told the New York Times, "There's nothing 'fun or funny' about putting a poor person in a mud hut in clothing designed by Alexander McQueen … There are farmer suicides here, for God's sake."
The Response: Vogue India editor Priya Tanna's responded to the criticism by telling the New York Times, "Lighten up. Vogue is about realizing the 'power of fashion.' You have to remember with fashion, you can't take it that seriously. We weren't trying to make a political statement or save the world."
10. Vogue Hommes International Tackles Domestic Violence
The September 2012 cover of the men's magazine showed model Stephanie Seymour getting "choked" and felt up by fellow model, Marlon Teixeira.
The Backlash: The photo generated heat from anti-domestic-violence organizations like Sanctuary for Families, Safe Horizons, NOW NYC, and Equality Now, which wrote a letter to Condé Nast's chairman S.I. Newhouse and even started a petition to pull the issues from newsstands, claiming that the publication was glamorizing domestic violence. They wrote, "Choking is not a fashion statement and certainly not something that should be used to sell magazines."
The Response: None.

11. Vogue Italia's "State of Emergency"
Released on 9/11's fifth anniversary, Steven Meisel's editorial shows riot squads aggressively arresting models Hilary Rhoda and Iselin Steiro on squad cars and following them as they make their way through airport security.
The Backlash: The editorial was both praised and despised for daring to mix fashion with the biggest national tragedy in recent history.

The Response: None.
12. American Vogue's "A Rose in the Desert"
"A Rose in the Desert" wasn't an editorial photo shoot, but we can't end our list without it. The glowing profile written about Syrian dictator Bashar al-Assad's Christian Louboutin–wearing wife, Asma al-Assad, is still fresh in our minds and generated more heat than some of the photo shoots combined. The article was published in American Vogue's March 2011 "Power" issue, and in the opener, Joan Juliet Buck, the writer and former editor-in-chief of French Vogue, famously wrote, "Asma al-Assad is glamorous, young, and very chic — the freshest and most magnetic of first ladies. Her style is not the couture-and-bling dazzle of Middle Eastern power but a deliberate lack of adornment. She's a rare combination: a thin, long-limbed beauty with a trained analytic mind who dresses with cunning understatement." The article was drenched in praise, choosing to ignore any mention of Assad's brutal regime.
The Backlash: Vogue was called politically insensitive for working with the Syrian regime. The New York Times accused both Buck and Anna Wintour and the writer herself, whose story was published as Syria's government started to attack citizens, as taking part in a public relations campaign on behalf of the Syrian regime. 
The Response: Vogue initially defended the article. Vogue's senior editor Chris Knutsen told The Atlantic, "The piece was not meant in any way to be a referendum on the al-Assad regime. It was a profile of the first lady." But when further horrors and deaths from the Arab Spring and al-Assad's ruthless regime were revealed just after the issue's publication, Vogue pulled the piece from the site (and most of the Internet) in May 2011. Buck later wrote a first person account in Newsweek that she had been duped by the family, rechristening the woman she once called "the desert rose" into the "first lady from hell." Wintour also issued an apology stating, "Like many at that time, we were hopeful that the Assad regime would be open to a more progressive society. Subsequent to our interview, as the terrible events of the past year and a half unfolded in Syria, it became clear that its priorities and values were completely at odds with those of Vogue."