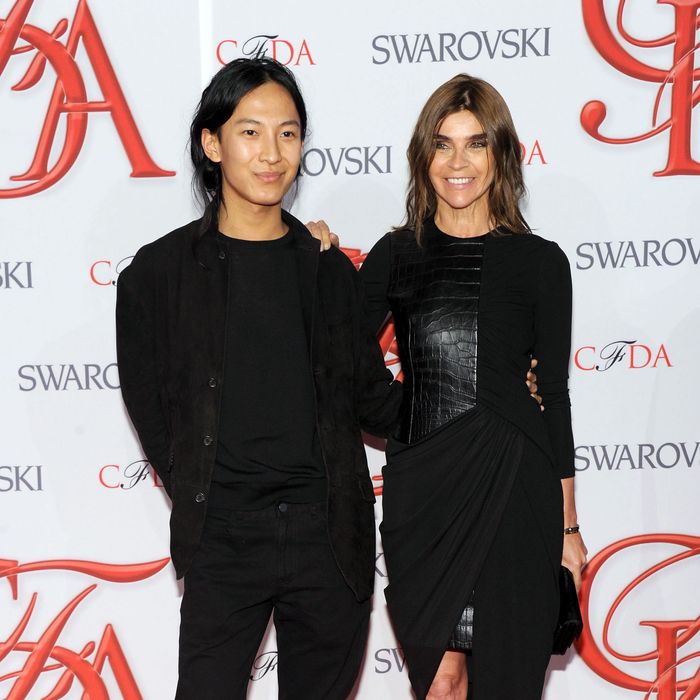 Alexander Wang and Carine Roitfeld, peas in a pod.
Photo: Jamie McCarthy/Getty Images
Carine Roitfeld, one of Alexander Wang's most longstanding and fervent supporters, will reportedly take on the role of stylist for Balenciaga now that Wang is at the helm, says Grazia. This partnership, if true, makes more sense than anything about Wang at Balenciaga so far. Roitfeld and Wang are old pals, and in addition to squiring each other around and participating in each other's projects, Roitfeld has lots of connections in Paris and could help Wang secure his footing there. She's also an ideal person to help adapt his aesthetic for the European landscape.
But if Roitfeld took over styling duties at Balenciaga, this means she'd replace their longtime stylist Marie-Amélie Sauvé, who has styled all of Nicolas Ghesquière's shows and campaigns for years. Last February, Sauvé told us that she loves Wang, explaining, "he's very fresh and cool, and doesn't try too hard," so presumably they're on good terms as well. On one hand, it's understandable that Wang would want to bring in his own help, but on the other, axing Sauvé would signal an even bigger overhaul of the brand.
Update: The Times's Eric Wilson tweeted this afternoon, "I asked Carine Roitfeld about the Balenciaga styling rumor and she said not true. Direct quote: 'I think I have enough on my plate.'"