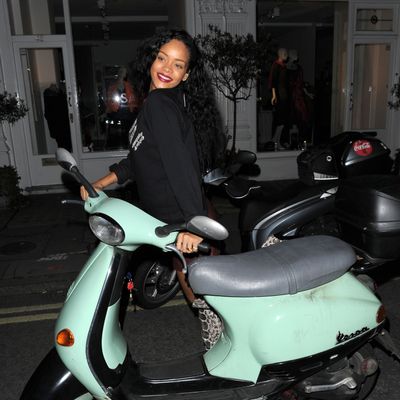 Rihanna in London.
Photo: Splash News/Corbis
Since Rihanna announced her collaboration with British label River Island last July, the brand has released several teasers of the collection, which comes out March 5. In December, Rihanna debuted one of the looks by allowing paparazzi to photograph her as she alighted from an SUV in a snap-front velour jumpsuit with her cell phone clamped to her ear. A few days later, the label released information on the campaign shoot, which starred Jourdan Dunn, Bambi Northwood-Blyth, and Ataui Deng but not the titular designer. (Rihanna was on set to help her stylist, Mel Ottenberg, "direct the look and feel" and, perhaps more importantly, to get a haircut.) 
Anyway, now they're really ramping up the publicity ahead of their big launch, and what better way to do so than with a splashy catwalk at London Fashion Week? Unlike the rest of the collections on view at the shows, which will have clothes for fall 2013, this runway will show Rihanna's spring 2013 line, just to drum up press while everyone's in town. Set for Saturday, February 16, the event will be "invite-only" and, like so many celebrity lines before, culminate with a bow from Rihanna and her "design partner," Adam Selman, at the end. British Vogue has this quote from the pop star:
Launching at London Fashion Week is a dream come true for me … I have wanted to design my own collection for a long time and to present my collection for River Island alongside all of the other great design talent at LFW is a real privilege. I can't wait to see the reaction from my fans and the fashion press!
And neither can we. Should you be moved to buy any of the clothes, they'll be for sale online and at Opening Ceremony stores in the U.S. and Japan.