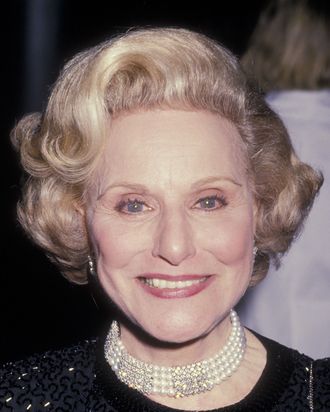 Photo: Ron Galella/WireImage
"Dear Abby" advice column founder Pauline Phillips — better known by her pen name, Abigail Van Buren — died yesterday at age 94, TMZ reports. Phillips's daughter Jeanne had been writing the Dear Abby column since 2002 (and unofficially since 1987, according to the New York Times), after Pauline was diagnosed with Alzheimer's disease. Pauline started the column in 1956 after having practiced giving advice by helping her twin sister and lifetime rival Eppie Lederer (who died in 2002) write the Chicago Sun-Times' "Ask Ann Landers" column. From the Times obituary (which is worth reading for the vintage Van Buren one-liners alone):
[W]hen The Sun-Times later forbade Mrs. Lederer to send letters out of the office, Mrs. Phillips, by this time living in the Bay Area, vowed to find a column of her own.

She phoned The San Francisco Chronicle, identifying herself as a local housewife who thought she could do better than the advice columnist the paper already had. "If you're ever in the neighborhood," the features editor said rhetorically, "come in and see me."

Mrs. Phillips took him at his word and the next morning appeared unannounced in the newsroom in a Dior dress. She had prudently left her chauffeured Cadillac around the corner.

If only to get rid of her, the editor handed her a stack of back issues, telling her to compose her own replies to the letters in the advice column. She did so in characteristic style and dropped off her answers at the paper. She arrived home to a ringing telephone. The job was hers — at $20 a week.

Mrs. Phillips chose her pen name herself, taking Abigail after the prophetess in the Book of Samuel ("Then David said to Abigail … 'Blessed is your advice and blessed are you' ") and Van Buren for its old-family, presidential ring. Her first column appeared on Jan. 9, 1956, less than three months after her sister's debut.
"Dear Abby" now has 110 million daily readers, according to syndicate Universal Uclick.