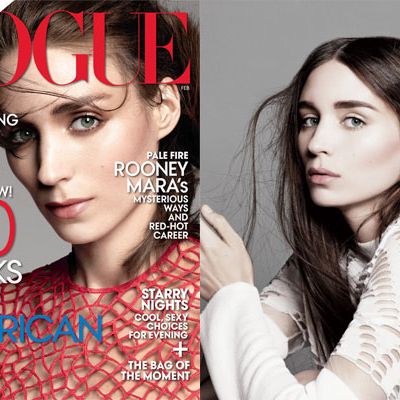 Rooney Mara, shot by David Sims for Vogue.
Photo: David Sims for Vogue
Vogue is touting Rooney Mara again, this time on their February cover. As she'll host the Met Gala this spring, it's in the magazine's best interest to drum up some publicity for her, particularly since she's uninterested in doing it herself: In the accompanying profile, by Hamish Bowles, Mara explains that she never goes to parties and considers red carpets "a nightmare."
It's a panic attack waiting to happen. I don't even like people to sing 'Happy Birthday' to me. When we wrap a film and everyone claps and cheers, I turn red. And then I have to walk out onto the middle of this carpet and there are all these photographers, and they're all screaming at you. And usually there's a party at the other end of it, so it's not even like I have solace at the end of the carpet! It's like then I have to walk into my other nightmare!
In fact, Mara's shyness is the thesis of the article, and all of the anecdotes spring from there. She hangs out in Williamsburg and prefers to eat kale pancakes at a nameless restaurant in K-Town instead of having dinner "at the very latest fashionable establishment." When she's contractually obligated to go to red-carpet events, she gets terribly overwhelmed:
For Dragon Tattoo, I had eight different premieres, this many different photo calls. It's a lot to plan for. It's not like you can just show up … The thing is, it's kind of an annoying part of the job — because I'm not a model, and I don't want to be. I didn't try to be a style icon. I'm just not that interested in that world. But it does matter, and either I can fight that or I just have to accept that it is a part of my job, and I may as well wear things that I like and that represent me.
Which brings us to her stylist, Ryan Hastings, whom she chose because he's shy like her. (In her words, "He's very quiet and thoughtful, and we just instantly got along.") He's the force behind her Dragon Tattoo press tour makeover — the slicked hair, the dark lipstick, and the gothic dresses that play up her white skin and Burton-esque features. They're still working together, and her affiliation with the Met Gala must be a coup for him. (Givenchy's Riccardo Tisci is a co-host, so that takes care of which designer she'll wear.) 
So why did Mara agree to headline such a splashy event if she's so shy? If she thinks normal red carpets are nightmarish, then the Met Ball could be her personal hell. Here's wishing her some Xanax and maybe a Givenchy contract as part of the deal.