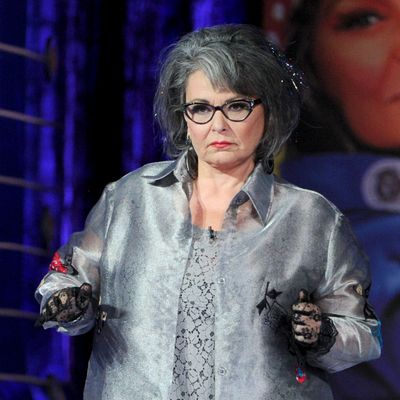 Photo: Kevin Winter/Getty Images
The Ohio rape case that played out on social media and was until recently covered only on the indie crime blog Prinniefied.com has now drawn the attention of hacktivist group Anonymous and their unlikely ally comedian/writer Roseanne Barr. Anonymous has threatened to release information about the members of the alleged "Rape Crew" — fellow football players and partiers who were present or aware of the rape — unless they apologize; meanwhile, Barr has been writing to the Ohio governor and local news stations, urging FBI involvement.
Wednesday, Anonymous leaked a twelve-minute video of drunk-looking Steubenville High School boys giggling over the fact that the 16-year-old victim was so blacked-out —  "deader" than "O.J.'s wife," "Caylee Anthony," and "Trayvon Martin" — that she probably couldn't even tell she was being anally raped and urinated on. "It might have been her dying wish," one young man, pictured above, said of the victim's inability to consent. (Watch at your own risk.)
It's not exactly hard evidence, but Anonymous isn't looking for a conviction, just a public apology from those who stood by tweeting and posting sickening pictures to Instagram (such posts have since been deleted) while the rape occurred.
For example, football player Cody Saltsman apologized when his family dropped their defamation suit against Alexandra Goddard, the Prinniefied blogger following the case. He wrote:
"I deeply regret my actions on the night of August 11, 2012. While I wasn't at the home where the alleged assault took place, there is no doubt that I was wrong to post that picture from an earlier party and tweet those awful comments. Not a moment goes by that I don't wish I would have never posted that picture or tweeted those comments. I want to sincerely apologize to the victim and her family for these actions. I also want to acknowledge the work of several bloggers, especially Ms. Goddard at Prinniefied.com, in their efforts to make sure the full truth about that terrible night eventually comes out. At no time did my family mean to stop anyone from expressing themselves online – we only wanted to correct what we believed were misstatements that appeared on Ms. Goddard's blog. I am glad that we have resolved our differences with Ms. Goddard and that she and her contributors can continue their work." – Cody Saltsman
Some have criticized the group's tactics, including the Steubenville football blogger targeted by Anonymous, Jim Parks, who dubbed the hackers a "terrorist group" making "libelous and slanderous" claims "intended to "get media attention and terrorize the Steubenville community."
In an interview with BuzzFeed, Barr defended Anonymous, and its KnightSec subgroup in particular, for doing "the good work of naming and exposing rapists and pedophiles, rather than excusing and protecting them, as rape culture does":
"All the time [Steubenville law enforcement officers] are "processing the facts" – the victim is shredded as a "whore" who "asked for it." We are seeing through all the trappings this time.
Anonymous has also begun making the case that police are covering up the case by linking members of the two alleged rapist's football team to local law-enforcement officials.